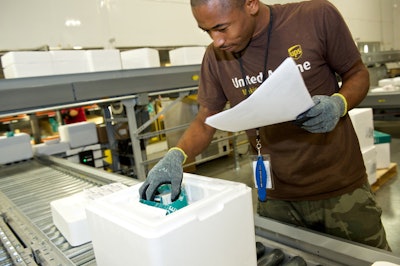 UPS announced new technology to help healthcare companies better synchronize and share information for serialized pharmaceuticals in the U.S. supply chain as required by the Drug Supply Chain Security Act. The law requires implementation—over a 10-year period—of serialization, enhanced traceability, and data reporting to help secure the drug supply chain and increase consumer safety.
Under the law, U.S. drug manufacturers and life science organizations must build the capability to produce and communicate a standardized, unique numerical identifier for each package or homogenous case for each sellable unit of prescription drugs. Key goals are to verify, document and authenticate every drug product transaction along the supply chain from manufacturer to wholesaler to pharmacy or health care provider.
"The DSCSA is a complex yet important law to standardize the patchwork of various state laws so that all supply chain stakeholders are better equipped to help secure the pharmaceutical supply chain. It will also allow for better performance of existing supply chain processes such as managing recalls," says Tim Bishop, UPS manager of healthcare compliance.
The DSCSA has a far-reaching impact on manufacturers, drug distributors, repackagers, wholesale distributors, dispensers and logistics providers. Under the DSCSA, after Nov. 27, 2017, wholesalers are no longer allowed to accept drug packages without a serial number. Although the FDA recently published draft guidance indicating it would use enforcement discretion for this requirement until Nov. 2018, the requirement is in place and the expectation is for the industry to be ready to comply. By 2019, wholesalers may only accept returned product for redistribution if the product can be associated with corresponding track-and-trace documents and if it can verify the product identifier. By 2023, all systems must be in place to track individual drug packages back to the original manufacturer or repackager.
The UPS solution will utilize and build off of existing UPS technologies tailored to the DSCSA guidelines. UPS will deploy this core system globally using its warehouse management system (a mix of hardware and software).
UPS's technology helps enable critical functions including, but not limited to: verification and authentication of serial numbers, data repository to meet the six-year data retention requirement, scanning and identification of barcodes and management of levels of aggregation, and tracing individual packages back to original cartons and pallets. UPS can deploy this core system globally using its warehouse management system.
With the technology, the company says stakeholders across the board will have streamlined, standardized visibility into pharmaceutical shipments. When a customer makes an inquiry, the technology can tell when the shipment came in, when packages went out, what serial numbers made up that order, and more. The UPS system can be used globally and modified to meet regional compliance requirements. It also facilitates the exchange of information efficiently.
UPS has been involved in a number of industry coalitions to help standardize U.S. and global guidelines for supply chains. UPS also works to impact global policies so healthcare manufacturers and their logistics partners can effectively evaluate and respond to new rules.
Companies in this article