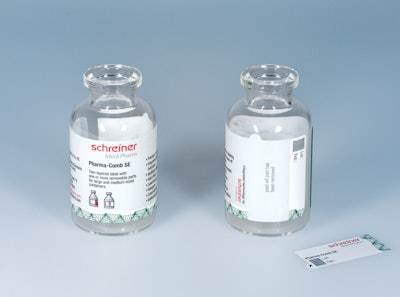 Schreiner MediPharm, a Germany-based global provider of specialty pharmaceutical labeling products, will introduce the newest member of its Pharma-Comb family with integrated anti-counterfeiting technologies at INTERPHEX New York April 23-25, 2103. The Pharma-Comb peel-off label offers a multilevel security system that can be customized to suit the specific requirements of pharmaceutical manufacturers.
Equipped with integrated security features, the new Pharma-Comb label combines overt features such as holograms, color-shifting security inks, and guilloche patterns with more covert elements, including certain voiding effects and LaserSecure—a sophisticated method incorporating special pigments that only becomes visible via a dedicated hand-held reading device. The combination can be tailored to specific manufacturer requirements, resulting in customized authenticity protection for pharmaceuticals.
The latest Pharma-Comb security label provides government authorities, pharmacists and healthcare staff with an easy means of authenticating pharmaceuticals while protecting patients against counterfeit and inferior drugs. Meanwhile, pharmaceutical manufacturers benefit from tailored solutions that can be integrated into existing brand designs.
In addition, the new Pharma-Comb label has another built-in security feature: detachable label parts. When detached from the substrate, the message "peel-off part has been removed" becomes visible on the bottom label. Other security features embedded in the detachable label part make authentication checks possible even after the label has been attached to a patient's medical records.
Companies in this article