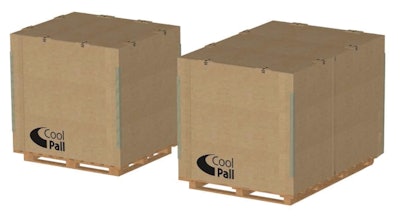 DS Smith Plastics Cool Logistics, supplier of temperature-controlled packaging, has extended its CoolPall range to include a quarter PAG and PMC.
These new products are the latest additions to the company's next-generation bulk-shipping system and provide cost-effective protection for products that need to be maintained at chilled or controlled room temperature during transit for up to 120 hours throughout the +2°C to +8°C and +15° to +25°C temperature ranges.

The quarter and half systems, for both the PAG and PMC footprints, have interchangeable walls, whichbenefit customers whose air freight requirements are under 160cm. This gives the option of scaling up or down in size depending on specific shipping requirements, saving on volume, space, and cost.
The range works with LD7 PAG and PMC air pallets, and has been designed for the pharmaceutical bulk distribution networks and 3PL market.
CoolPall is globally available, and is designed as a flat pack for easy assembly. The packaging is made from recyclable materials.
Companies in this article