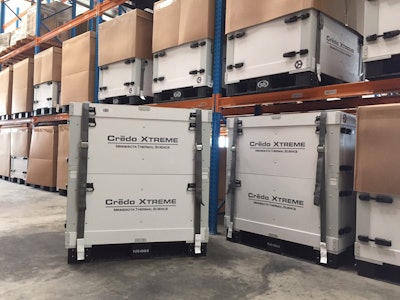 Cold chain logistics within the life sciences industry tends to evolve over time rather than having revolutions. Because the industry moves pragmatically, many trends that we've seen over the last several of years will continue into 2016.
The following are three major cold chain trends I expect to impact the life sciences industry in 2016.
1. Interest in passive vs active bulk shippers
In the bulk pallet shipper arena, we've seen a growing interest in customers looking to move from active to passive bulk shippers. Those offering active bulk shipper solutions have found themselves in a situation where they are not positioned properly to quickly support user demand in a timely fashion. As a result, there are product availability shortages, long lead-times as well as high costs surrounding use of active containers. Reusable and single-use passive bulk shippers offer the advantages of no reliance or the expense of a reliable battery/electricity source end-to-end, easy pack out and pre-conditioning of PCM (phase-change material) and greater flexibility in payload volume sizes and freight efficiencies.
2. 'Big Pharma' focus on driving down distribution costs through temperature-controlled shipper payload volumetric efficiency
With the pressure to reduce costs, total cost of ownership is something that's growing as a primary focus for cold chain logistics providers. Heightened attention is placed on temperature-controlled shipper payload volumetric efficiency and overall product dimensions that in turn affect overall inventory, warehouse and transportation costs. Volumetric efficiency is achieved when the ratio of shipper payload capacity is optimized in relationship to the outer shipper size dimensions, whether single use or reusable. It's about leveraging innovative technology and being able to ship more for less, yet still maintaining the integrity and safety of high-value products throughout the supply chain.
3. Growth of valuable biologics and biosimilars in relationship to patent cliffThe global health care cold chain logistics market size is expected to grow from $8 billion (2014) to $12 billion by 2018. Part of this will be due to the continued growth in the number of biologics and biosimilars—both of which require strict temperature control, especially in emerging global markets with extreme temperature ranges.
This trend is already evident: according to an article published last year by Generic Engineering News, 10 of the top 25 best-selling drugs in 2014 were biologics.
As patents on drugs continue to expire—a trend we've seen over the last two to three years—big pharma companies are looking to fill their pipelines. Most of the innovative treatments are coming from genetic-based drugs. Although predominate pharmaceutical companies are heavily invested in research and development for these types of new drugs, we anticipate that a lot of these new biologics and biosimilars will come from emerging start-up organizations reliant upon third-party cold chain logistics providers for distribution.We expect this trend to lead to an increase in acquisitions of biosimilar start-ups by big pharma manufacturers in 2016 as a conduit to pipelines of newly patented, profitable drugs.
Kevin Lawler is the Vice President of sales at Pelican Bio Thermal. With more than 25 years of sales leadership experience, Kevin has a history in building and leading sales organizations capable of producing strong and predictable growth.
Companies in this article