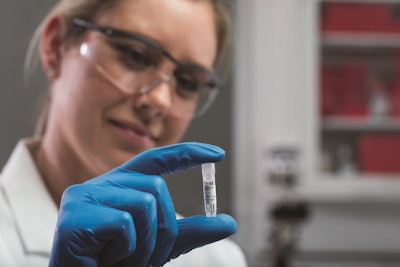 Typically, there's a clear distinction between a manufacturer/end-user firm and a packaging supplier. That not necessarily the case in CRISPR development where Millipore Sigma serves as just such an example.
Formed in 2015 when EMD Millipore combined with Sigma-Aldrich, MilliporeSigma operates in the U.S. and Canada. It produces more than 300,000 products that include gene-editing tools, cell lines, and end-to-end systems to manufacture drugs. In 2013, it began shipping CRISPR-related products from its St. Louis facility. Beyond this traditional "end-user" role, the company also provides vials and well plates (trays with multiple "dips" that hold chemicals for test purposes), thereby fulfilling a packaging supplier role.
Company spokesperson Karen Tiano says MilliporeSigma provides genome-editing CRISPR products in three liquid forms: bacteria, DNA and lentivirus—all packaged in matrix vials and 96 or 384 well plates. Matrix vials use either a SepraSeal® or a screw cap to secure liquids inside.
The company also sells purified CRISPR proteins in matrix tubes and chemically synthesized guide RNAs (SygRNA™ RNAs) in matrix tubes or 96/384 well plates. Vials and plates used for these CRISPR products are made from polypropylene. The 96 well plates for packaging bacterial CRISPR offerings are made of polystyrene. Meanwhile, the company uses polypropylene for the 96 and 384 well plates used to package DNA, lentiviral and synthetic CRISPR varieties.
She says that while there are no unique barrier requirements for these CRISPR reagents, "the choice of packaging is specific to the physical composition of the reagents. Therefore, MilliporeSigma CRISPR products are made in the same packaging used for the delivery of historic bacterial, plasmid DNA, lentivirus, synthetic RNA, or protein products that MilliporeSigma manufactures."
All products are shipped in matrix tubes (or vials), with volumes ranging from 0.5mL to 2 mL, and in 127.76 mm L x 85.48 mm W x 14.22 mm H 96-/384-well plates, compliant with ANSI/SBS requirements for liquid handling platforms.
MilliporeSigma's CRISPR products are made for research purposes only. Academic, biotech and pharma labs use these CRISPR molecular tools to genetically modify cellular models of a human disease, typically consisting of human cells growing in a dish. They are also used in animal models.
Tiano notes, "One of the more challenging activities, from a packaging perspective, is storing, boxing and shipping one of our Sanger whole genome CRISPR libraries. These are large collections of CRISPR clones that can take up over 400 x 96 well plates. These products must be kept on dry ice or in a -80°C freezer at all times, further complicating handling. We have been able to maximize the use of space in our large D and E containers, particularly in international shipping, to ensure that the products are kept frozen while being efficient with our shipping and handling costs."
She adds, "The most widely used and available CRISPR enzyme is Streptococcus pyogenes Cas9 (spCas9). This enzyme is actually quite stable. The protein we ship to researchers is lyophilized, making it very stable for a long time, even at room temperature. After reconstitution, we have real-time storage studies demonstrating that the protein is active for at least six months when kept at -20°C. These experiments are ongoing as we test the limits of the protein's shelf life."
Global CRISPR market shows promise
Genome or gene editing technologies, says Genetics Home Reference, "Allow genetic material to be added, removed, or altered at particular locations in the genome. A recent one is known as CRISPR-Cas9, which is short for clustered regularly interspaced short palindromic repeats and CRISPR-associated protein 9. The CRISPR-Cas9 system has generated a lot of excitement in the scientific community because it is faster, cheaper, more accurate, and more efficient than other existing genome editing methods."
The promise of CRISPR extends worldwide, as evidenced by new Inkwood Research that forecasts the global CRISPR market will grow from $487 million in 2017 to over $7.95 billion by 2026, which translates into an incredible 36.53% Compound Annual Growth Rate between 2018 and 2026.
The report says, "The important drivers increasing growth in the global CRISPR market include increasing demand for drug discovery and genetic disorders." Inkwood's report says drug discovery plays a key role in new drug introduction to treat severe diseases such as cancer. Combine that with ever-aging populations in the U.S. and Western Europe, and the opportunities for genetic engineering are enormous.
However, there exist cautionary factors as well, which Inkwood describes as a lack of awareness and "probable misappropriation of CRISPR gene editing tool. CRISPR is associated with numerous applications such as genetic engineering, genome editing, etc., which are considered controversial due to the ethical concerns related to them."
Companies in this article