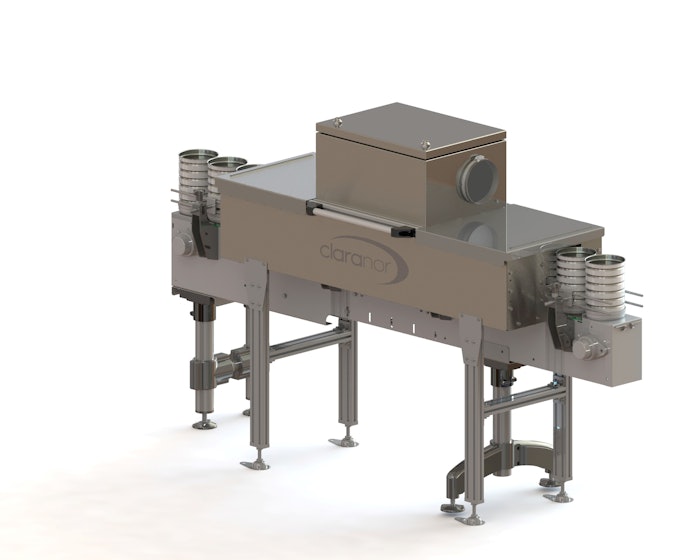 Claranor, a supplier of industrial units of pulsed light treatment integrated onto filling lines, introduces what it calls the first pulsed light sterilization equipment dedicated to infant formula milk powder cans.
The Infant milk powder is a brand-new market for Claranor that requires a demanding quality system. To comply to the expectations of the producers, the company has designed a dry cooling system and performed several microbiological trials in order to demonstrate the efficiency on a new range of micro-organisms: Cronobacter sakazakii, Bacillus cereus, Candida albicans.
To achieve the dry sterilization, the cooling of the pulsed light sterilization unit will be insured by air rather than the closed water cooling system currently used. In the Claranor process the heat is not released in the environment around the conveyor but eliminated outside the production room.
The microbiological tests are performed by the company's laboratory in Avignon, and repeated by external laboratory Fraunhofer Institute, ensure the neutrality of the results.
The Claranor prototype to be shown at the upcoming Anuga Foodtec event in March is designed for the most common format on the Infant milk powder market: can of 900g with a diameter of 127 mm on a single stranded conveyor, with a speed-line up to 300 strokes/min. The unit meets the standard of food safety: hygienic design (stainless steel 304) and cleanability.
Beyond dry decontamination, the Claranor equipment offers the following advantages:
• High level of efficiency
• No heating around the treatment zone
• Compact equipment, easy to integrate on new or existing line (<1.5m)
• Instant treatment (no pre-heating time)
• Lower running costs
• Sustainability (no hazardous waste management)
Companies in this article