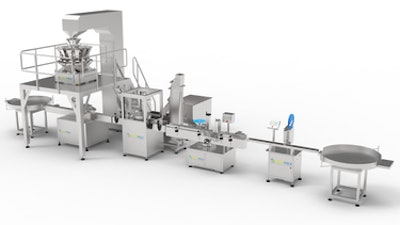 Leafy Pack Cannabis presenting its Cannabis container indexer to weigh and package flower into jars today at PACK EXPO Connects. The system uses the Multi-Head Weigher 14 Head from Plan IT Packaging Systems. The system can be used for gummies as well.
This cannabis jar indexer line is designed to package flower at up to 25 jars/min. It consists of a rotary infeed and exit table, jar indexer conveyor, infeed conveyor to consistently feed the scale, and a platform for easy, safe access and maintenance of the weigher. The 14 head .2L weigher along with the secondary precision check catch the under and over weights before entering the jars.
Some key features include the high-end German load cells for up to 0.05g accuracy, toolless removal of buckets and pans for easy cleaning and sanitation, full washdown capabilities, and a secondary precision check system reject product which does not meet specifications and can then be recycled.
This one stop complete system is designed for integration with the company's capping line, labeler, sealers, and cartoner to put the individual bottles into jars.
View the demo here.
Companies in this article