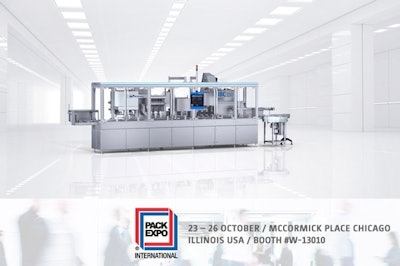 Uhlmann is presenting the first bottle line IBC 150 with an integrated metal detector in a compact monoblock at PACK EXPO International October 23 to 26 at Booth W-13010. Highly automated, networked, and flexible, the IBC 150 is designed to pack small to medium-sized batches of solid dose products in bottles. The monoblock line, measuring around 5 meters, processes on average up to 150 bottles and 24,000 tablets or capsules per min.
Rapid product changeover and short ramp-up phases also make the line attractive for CMOs, CDMOs, and manufacturers of food supplements. For example, the bottle diameter can be converted to a different one in just 6 min. The entire line is controlled in a standardized manner via the user-friendly SmartControl operating system—from the new bottle unscrambler BU 200 to the Integrated Bottle Center 150 through to the serialization platform S 500.
The new bottle unscrambler BU 200 is extremely quiet and can process up to 250 bottles per min. The unit is easy to access and enables rapid cleaning of all surfaces. The integrated metal detector in the bottle line IBC 150 does not increase the footprint of the monoblock. Another key function of the compact line is the innovative single tablet reject function, an optional module that checks the tablets already in the tablet counter and identifies any damaged or incorrect products and foreign particles. These are rejected while maintaining a high production speed.
As a standalone solution or integrated in the packaging line, the compact Uhlmann Serialization Platform S 500 is adapted to the bottle line IBC 150. Pharmaceutical manufacturers can use the unit, which is free from format parts, in various configurations, e.g., for a 360-deg bottle inspection, for bottle labeling or serialization, whereby every bottle is identified with a 2D code. An optional helper code can be printed on the base of the bottle. This is checked in the followup process and assigned to the serialization code on the bottle label.
Companies in this article