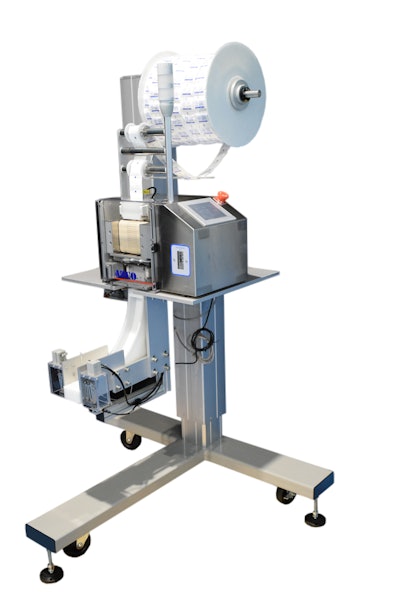 AZCO Corp. has designed and manufactured a pouch dispenser for desiccant in roll form. The SP-4D dispenser features a dancer unwind and a high consistency escapement. The portable unit is mounted on an adjustable equipment stand with caster wheels and leveling feet for mobility and stability. The unit is PLC controlled; an operator control panel is provided which includes a color touch screen for easy setup and operation. The unit requires 110vac, 50/60 Hz, and 2.75-3 bar [40-60psi] of clean/dry compressed air.
The roll of material is placed on a motorized unwind. From the unwind, the material goes over a dancer assembly and the dancer arm feeds the material out. The material is driven by a set of upper and lower belts creating a tractor feed. With the material in the belts, the unit can be primed and the material automatically self-feeds and loads the pouches into the proper starting position. An optic system built into the knife cartridge tracks the location of a feature on the pouch. Once the material is indexed to the proper location, the knife cartridge cuts the material. After the cut, the material falls down an exit chute and past a cycle verification sensor. The high consistency escapement accurately drops the desiccant.
AZCO Corp. designs and manufactures modules and units used to feed, cut and place products. Their concept is based on a building block model. Standard modules and units can be purchased alone or in combination to build a custom systems.
Companies in this article