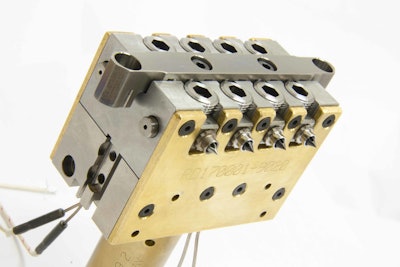 The Molding Solutions business unit of Barnes Inc. has expanded its portfolio of nozzles. In addition to the side valve gate nozzle "Edgeline" from Männer, Thermoplay now offers a new, thermal side gate nozzle.
This new open side-gate TFS hot runner nozzle is available in radial or linear layouts (TFS-Radial and TFS-Linear). The TFS nozzles are particularly suitable for injection molded parts requiring a cosmetic injection point and for parts for which the optimal injection position is from the side, i.e. at a right angle to the direction that the mold opens. These applications include syringes, caps, tubes, medical sharps, as well as personal care, caps & closures, packaging products, electronic, and technical components.
16 mm between injection points
The TFS-Linear comes equipped with 2+2 or 4+4 parallel nozzle tips, with minimum injection point spacing of 16 mm. The radial design features hot runner nozzles with 1, 2, or 4 nozzle tips. Most commercially available polymers (PP, HDPE, HIPS, PMMA, POM, PC, and many others) can be processed using the Thermoplay TFS design.
Technology for safety and ease of installation
One feature of the linear side-gate TFS-Linear nozzle is its thermal expansion compensation system in the longitudinal direction.
The cylindrical sealed area between the nozzle tip and cavity is designed to ensure reliability during the injection phase.
The attachment system makes both the radial and the linear version easy to install or remove rapidly. The nozzle tips can be easily replaced or maintained in the cold condition directly on the machine without disassembling the mold. First, the nozzle body is installed in the fixed-side (hot half) mold plate, and the nozzle tips are then inserted into the cavity. This procedure also offers the advantage of accommodating undivided mold inserts.
Uniform temperature distribution
Emphasis was given to the heating design in developing the new side-gate thermal nozzle. All patented heating elements are developed and manufactured by Thermoplay using their in-house process.
Direct connection delivers cost savings
Direct side-gating means no sprue is necessary, which eliminates the costs and efforts related to the removal of the sprue from the molded part for disposal or recycling. Direct side-gating without a sprue adds value to the processor in terms of efficiency and handling.
Easy handling & safe production
The thermal side-gate TFS-Linear and TFS-Radial nozzles are designed to simplify planning, design, and maintenance of compact molds.
Companies in this article