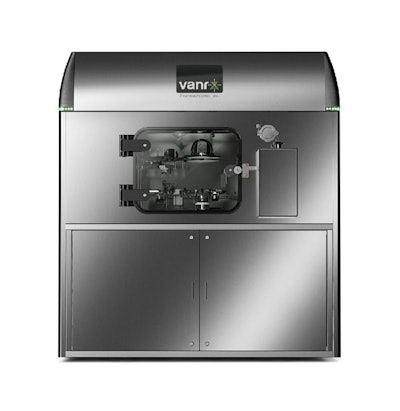 Vanrx Pharmasystems' Microcell Vial Filler is a fully integrated gloveless robotic isolator for pharmaceutical vial filling. This machine can be used by CMOs/CDMOs, or to develop new products and manufacture clinical trial supplies, autologous cell therapies and personalized medicines.
The Microcell is designed to help bring drug products to market faster by providing cost-effective, flexible filling capacity; development processes can happen earlier in a product's lifecycle. Tool-less changeover and rapid 15-minute vapor-phase hydrogen peroxide decontamination support agile production of vial sizes from 2R-50R. The gloveless isolator provides semiconductor-grade particle levels and a highly repeatable aseptic filling process.
The compact Microcell uses single-use materials,filling up to 1,200 vials of a single product or multiple batches of personalized products in a single shift.It uses ready-to-use fill path, pre-sterilized nested vials and press-fit closures
The Microcell won the Interphex 2018 "Best in Show" award, acknowledged as filling an unmet need early in the drug product supply chain by enabling formulation, toxicology, stability, etc. to happen earlier in a drug product's lifecycle. This saves time in pre-clinical and clinical development, saving time in the patent window, and helping users reach the market faster.
The Microcell is also designed to allow safe and rapid scale-out in the manufacturing of personalized medicines—cell and gene therapies and immune-oncology products—from clinical through commercial manufacturing. Its standard design can be built quickly, enabling companies to add more capacity in months, rather than years. Robotic automation and single-use product contact materials eliminate the risks of manual filling and cross-contamination, respectively.