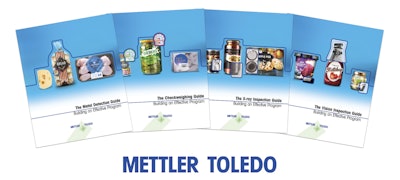 Four new Product Inspection Guides from Mettler Toledo Product Inspection offer practical information designed to help manufacturers establish comprehensive checkweighing, metal detection, vision and x-ray inspection programs to ensure the safety of their products. The guides are free and can be downloaded directly.
The goal for most manufacturers is the ability to ensure product quality and consumer safety without reducing productivity. These new guides unlock the key to this and many more product inspection challenges. Updated with new content, each guide focuses on one of the four inspection technologies: X-ray inspection, metal detection, checkweighing and vision inspection. They instruct manufacturers in the food, pharmaceutical, and related industries how to develop effective inspection programs that detect and remove contaminants, confirm that package contents are correct, and ensure the integrity and labeling quality of products before they leave the manufacturing facility.
The guides explain the basic operating principles and key features of each technology. They also contain up-to-date information on the latest innovations in product inspection solutions and provide vital assistance for manufacturers in selecting the ideal system for optimal performance in their specific production systems.
The guides also describe in detail how a well-designed product inspection program can help manufacturers adhere to industry and global certification standards and meet the quality control requirements of the retailers they supply. They also include detailed information and guidance about Hazard Analysis and Critical Control Points (HACCP), Good Manufacturing Practice (GMP) and local Weights and Measures regulations.
Featuring diagrams and illustrations based on real-life production scenarios, all four guides draw on the collective expertise and wisdom of industry design experts, applications engineers and process managers.
Companies in this article