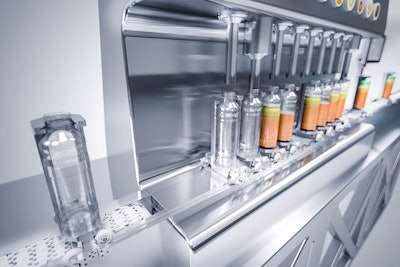 Getting lunch delivered to the office has never been so easy. From a smartphone, you can find a nearby restaurant, scroll through the menu of options, add extra toppings to your sandwiches, pay electronically, include a tip for the driver, and get alerts telling you exactly what time your food will arrive.
It's an experience experts are calling the "Amazon effect," in which consumers expect buying convenience, visibility and accessibility at every step in the process. Retailers and restaurants are delivering on those expectations. Now, manufacturers in high-volume industries like CPG, food and beverage and pharmaceuticals are feeling the pressure to cater to these new consumer needs as well.
"It's called the demand market," says John Kowal, Director of Business Development for B&R Industrial Automation. "The consumer wants what they want when they want it."
Though this demand-driven market might feel very out of reach for manufacturers that are using legacy systems to mass produce products, it is actually a great opportunity. Investing in new technology and business models that cater directly to the customer can reduce inventory and order fulfillment times while significantly slimming down the supply chain.
The manufacturing process for the demand market is referred to in many different ways: flexible manufacturing, adaptive machines and batch of one. But the goal is the same. "The idea is that you can economically produce one product," Kowal says. "Whether it's customized to an individual or one of many choices, you produce it to order."
Imagine a filling line that can mix and match drink recipes based on individual orders. Those personalized beverages flow down the bottling conveyor system to be put into different bottle sizes with customized caps and customized packaging that corresponds to individually printed recipes and individual tracking. The batch-of-one production could then move into a multi-pack before heading to the case packer. In summary: Just-in-time filling of small batches executed in quick succession, with no equipment changeover, and put on mixed pallets directly on the line and ready for dispatch—without moving to the warehouse.
You don't have to imagine it because Krones, an OEM that develops machines and complete lines for process, filling and packaging, showcased a Bottling on Demand system at drinktec 2017. The Krones system setup uses technology from B&R called Acopostrak, which will officially be unveiled this month at the International Manufacturing Technology Show (IMTS) in Chicago.
According to B&R, Acopostrak is a generational leap in intelligent, flexible transport systems. It includes high-speed diverters and passes shuttles from one track circuit to another at full production speed. The hot-swappable shuttles are on a purely magnetic hold and accommodate pit lanes for changing and service, enabling zero downtime. The flexible track design can be morphed into any form, and the system software can merge product flows and sort at full production speed, using parallel processing and load balancing. Acopostrak also includes simulation software—providing a digital twin that enables design optimization.
Digitalization is an important element in the system, noted Andreas Gschrey, Head of Digitalization and Data Technology for Krones, in a video made at the drinktec show. "Acopostrak enables us to make lot size one possible," he says. "It is using an electromagnetic track that brings the bottle from module to module, so the bottle gets intelligent and controls itself through the whole manufacturing line." Though the bottles themselves are not embedded with intelligence, the flexible control design of the transport system enables the movement of each individual unit, thereby customizing the control of each bottle.
As a result of new technology like Acopostrak, the manufacturing industry is finally arriving at a place where it can produce—and benefit from—batch of one. And that is a result of not just the sophistication of automation and control logic, but the evolution of the entire plant floor infrastructure.
The world—or at least the factory—is flat
The digital factory is an enormous enabler for the move from make-to-stock to make-to-demand. As a result of standard Ethernet networks penetrating the production line, as well as the Industrial Internet of Things (IIoT) and intelligent devices, there's a heightened level of connectivity.
The network, in particular, is key. Batch of one calls for tight integration between manufacturing and business management assets, which in turn requires a high level of interoperability. Time-Sensitive Networking (TSN) is one such emerging standard delivering the data and communications standards to connect these assets in a multi-vendor environment.
"This goes hand-in-hand with what we've done to flatten the network hierarchy, which has been going on since 2009 at B&R's own smart factory." Kowal says. The goal has been to get to one Ethernet network that removes layers and multiple protocols so that there is direct communication and interoperability from the edge to the cloud.
"Converging IT and OT is another critical piece of the process, as is network security," says Steve Mulder, North American Packaging Segment Lead for Rockwell Automation. "They all play a role. And the software that sits on top to enable manufacturing to be more effective is what is required to provide better visibility to what is happening on the production floor. The convergence of all this technology is ultimately helping manufacturing to raise operations to a new level."
Rockwell's flexible machine comes in the form of its independent cart technology, which the company has been investing heavily in, having recently acquired Jacobs Automation and its iTrak technology, a motion control system for machine builders, as well as the more recent acquisition of MagneMotion, a manufacturer of intelligent conveying systems. The iTrak technology enables independent control of multiple magnetically propelled movers on straight and curved paths. MagneMotion augments Rockwell's flexible motion control offerings to increase throughput in processes.
Independent cart technology is different from traditional conveyor technology, which has a fixed belt controlled by a servo motor. With iTrak and MagneMotion, there are linear synchronous motors and every part is independently controlled. The control architecture is a separate node controller on Ethernet that sends commands from the Rockwell ControlLogix controller, doing the math to handle all the directions and ensure nothing collides, as well as purging rejected products.
A key technology element here is IO-Link, an open standard network protocol for the communication of sensors, actuators and other IO-Link-enabled devices. "What used to be a simple sensor, like a photo eye, which would give us limited information, can now be automatically configured on a simple network," Mulder says. "So if you need to change sensors based on a product or package size, it can be adjusted faster."
Components, too, are getting smarter. Festo's Motion Terminal, for example, is an Industry 4.0 pneumatic system that includes integrated programmable processors and smart actuator technology that decentralizes intelligence. "It is a closed-loop control system that can adjust itself," says Sandro Quintero, Festo's Product Manager of valve terminals and electronics. "These more intelligent components feed into the need for more flexibility in machines to provide the batch of one."
This helps machine builders, which, like manufacturers, are faced with the challenge of finding components that will create flexibility. "If there is a need to change a tool on a pick-and-place system, with the Motion Terminal you just have to change the end-of-arm tool and digitally, on-the-fly, the behavior of the valve to apply grippers instead of suction cups is done in milliseconds," Quintero explains.
Life sciences batch of one
Though there is a lot of focus on batch of one in the food and beverage industry, pharmaceutical companies have their own market pressures to contend with—specifically, the move from manufacturing mass amounts of blockbuster drugs to producing smaller batches, such as cell therapy treatments. These more personalized drugs take into account that genetics factor into how well an individual will respond to a particular medicine.
The driver here is pure science and the need for personalized medicine. Cell therapy could provide a cure for cancer for an individual, for example, and batch of one enables the pharmaceutical company to make that medicine economically. The motivation for the industry here "is finding a way to provide a cure for cancer and other complex health conditions," says Michalle Adkins, Director of Life Sciences Consulting for the process systems and solutions group at Emerson. "If you can do that with a batch of one, it's all worth it."
In this situation, data—and patient privacy—is an important part of the manufacturing process.
"Emerson worked with some of the [pharmaceutical] companies to define the challenges around tracking the chain of identity of each batch," Adkins says. They needed to track individual batch records from the early stages of development through clinical trials, manufacturing and to the patient. "Getting the right batch to the right patient and ensuring the right processes are performed in the right place on the right batch—these are the kinds of things we've done to help."
Emerson's manufacturing execution system (MES) software, called Syncade, guides batches through with electronic workflow and verification of materials, people and equipment, making sure everything is done in the right order with the right calculations and is documented properly.
The key to batch of one in food or pharma lies within having a digital thread, notes Ryan Jarvis, Director of Food, Beverage and CPG markets for Siemens. That is, "being able to capture data at all points in the development and the execution process to continuously close the loop with one another," he explains. "Siemens enables this through the execution of our Digital Enterprise, where, in addition to simulating a new recipe and production run, a manufacturer can also create a digital thread of data from product conception through production and into the consumer's hands with closed-loop feedback back to the beginning."
New territory
Of course, this technology will come at a cost. To succeed in the consumer demand-driven world, manufacturers need to invest in new equipment.
"Everyone wants to talk brownfield, but if this is a brownfield [project], it won't happen," B&R's Kowal says. "If you want to be competitive, you need to invest in manufacturing. Controls on 20-year-old equipment were not designed to do what controls do today. So even if you do the analytics and optimize the process, you are only optimizing within the ability of the old control platform."
Siemens' Jarvis concurs. "The ROI for concepts like batch of one cannot always be measured using yesterday's metrics, but in the achievement of tomorrow's goals."
Companies in this article