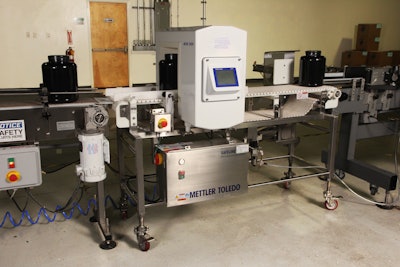 Since their launch five years ago, New Horizon Nutraceuticals has grown its business by constantly looking for ways to improve their products and practices. This private-label contract manufacturer focuses on building customer loyalty by offering nutritional supplements that taste great and provide results.
The company specializes in the research and manufacture of supplements, offering custom blending and packaging services. To protect the purity and safety of their products, New Horizon installed a Signature Touch metal detector from Mettler-Toledo Safeline.
"The nutraceutical industry is a very large and competitive environment," says Rob Wiscount, Owner of Kennett Square, PA-based New Horizon. "Quality products and strict attention to food safety compliance are every manufacturer's duty to the consumer and paramount to maintaining success. Our metal detector helps us fulfill this commitment to quality and food safety."
New Horizon specializes in the research and manufacture of custom formulations. Designed for a variety of purposes like bodybuilding and weight loss, their supplements come in unique flavors such as cookie dough and apple pie. One packaging line handles all company products and packages, filling HDPE and PET jars and buckets, ranging in size from 300 g to 50 lb, as well as polypropylene plastic bags, which measure 13 x 20 in. After being filled and sealed, products go through the Signature Touch metal detector to ensure quality and safety.
"Accuracy is the most important consideration when accessing a metal detector, and the Signature Touch has exceeded all our expectations. I have yet to see it fail in any audit," says Wiscount. "In addition to running test strips at the start of each shift, we sometimes conduct controlled audits to ensure our production operators are following the correct protocol for rejects. We are extremely pleased with this metal detector's sensitivity. It can pick up extremely small metal particles—particles much smaller than the acceptable industry standard."
The Signature Touch achieves sensitivity and stability with its high-frequency advanced coil technology and dynamic filtering techniques. It detects and rejects both ferrous and non-ferrous metals, including fragments of non-magnetic stainless steel and non-spherical fine wire, to help produce a safe product while saving time and money by minimizing false rejects.
Uptime, changeover benefits
"Our Signature Touch has never once given us a false reject when it's properly calibrated. That's valuable, because a reject triggers a mandatory incident investigation and report, which consumes significant labor and processing time," notes John Vandenbraak, New Horizon's Director of Operations. "Whenever our production line is running, this metal detector is turned on. It's extremely dependable in terms of uptime. It's actually the only machine in our facility that's never broken down. We've never even had to call customer service with a question or problem."
"There were times when we were growing 25% to 35% each quarter as we established our client base," adds Wiscount. "This metal detector gives us confidence that we're maintaining our product quality while rapidly increasing our production capacity to meet rising demand."
Changeover at New Horizon can occur as often as five times a day on their packaging line, depending on the size of customer orders. The Signature Touch's "product clustering" capability offers high inspection sensitivity while allowing numerous products to be run on one common setting. Additionally, up to 100 different product settings can be stored in memory for quick and easy recall during changeover. A new product can be added with the single-pass auto-setup routine, which increases uptime and minimizes operator training requirements.
"Overall, the Signature Touch is very easy to use. It doesn't take much for a new operator to become proficient," explains Vandenbraak. "We love that it identifies every user, so we can keep track of who was operating the system, who ran the tests and other information. The different levels of access prevent inadvertent changes to the programming."
Wiscount says, "We do everything in our power to make our private-label customers successful, and we depend on our suppliers to help us. It's a team effort. I've worked with Dick DeNenno, our sales rep from Reliant Packaging Systems for several years, so I trusted him when he said Mettler Toledo makes the best metal detectors. At the end of the day, our mission is to provide quality products that help people pursue their goals in health and fitness. The Signature Touch metal detector is an essential part of our practice. It assures our customers that we're putting out a food-safe product. It allows me to sleep better at night."
Companies in this article