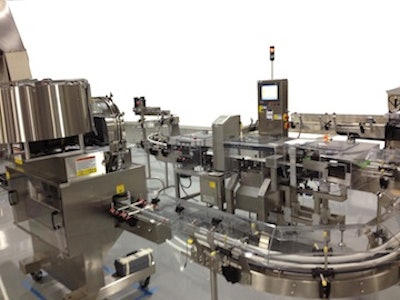 Diversified contract packager Praxis Packaging Solutions bumped-out its headquarters site in Grand Rapids, MI, in recent months to make room for a growing business. A major piece of that growth will come from a new high-speed tablet-filling and packaging line that deepens the company's commitment to over-the-counter and prescription drug packaging.
The new line is "part of an ongoing effort to improve upon our existing portfolio of capabilities and service offerings," Scott Hanmer, vice president of sales, told Contract Packaging during a late-October facility tour.

Key pieces of equipment include an unscrambler from Omega Design, a counter-filler from Aylward, a checkweigher from OCS, a capper from Kaps-All Packaging Systems, a retorquer from Fowler Products, an induction sealer from Enercon Industries, and a high-speed labeler from Weiler Labeling Systems.

In addition to stressing greater vertical integration with existing services from upstream consulting to secondary packaging and beyond, the line has baked-in flexibility, which Hanmer said has been, "engineered into the process, from the equipment and line layout to the material handling and process flow."
That flexibility includes the capacity to handle 200 to 300 containers/min of varying shapes and sizes from roughly 40 cc to 300 cc. Other examples include the availability of snap- or screw-on caps; the ability to run simultaneous filling and labeling, and the agility to either pack and store to brightstock, or label and package simultaneously as needed in order to meet customer requirements.
Praxis' management agility has been equally impressive in partnering, sourcing and fast-tracking the project. In August, the company contracted with the PharmAgility Consulting Group to assess the feasibility, planning, and installation of primary filling equipment and a supporting current Good Manufacturing Practices (cGMP) primary fill quality system. The high-speed line (shown here) was sourced from a global "Big Pharma" brand; redesigned and placed in September, and powered-up on Oct. 10. Validation was underway within days.

The line will meet U.S. Food and Drug Administration as well as European Medicines Agency standards. Additionally, the line includes thermal printing equipment from Videojet Technologies and will be fitted with additional vision, coding, and information technology upgrades for compliance with global unit-level serialization as well as the California e-pedigree law set to go into effect in 2015. The company already uses manufacturing execution and vision systems from Systech, and plans call for the addition of the developer's serialization modules.

"Ensuring Praxis is ideally positioned now for future requirements such as e-pedigree and product serialization will be an advantage for current and future customers," said Scott Dunckley, operation lead for PharmAgility.

A commitment to expanding with primary pharmaceutical packaging and "overwhelmingly positive response" from customers led to rapid project implementation, said Scott Wells, managing director for PharmAgility. "Getting the facility expanded and the line qualified is one priority. The other critical priority is developing the primary fill cGMP quality system—ensuring Praxis is also world class in terms of their quality and compliance."

In addition to the new line, Praxis in summer added 45,000 sq ft to its headquarters site, bringing total operations in Grand Rapids to 175,000 sq ft. The company also operates a roughly 30,000 sq-ft facility in Columbus, OH.

In related news, the Columbus facility last summer earned a GMP Certificate of Compliance from the European Medicines Agency (EMA) for secondary packaging of non-sterile drug products.

Besides its pharmaceutical work, the company serves various food, beverage, CPG, and promotional customers with services spanning design and consulting; primary and secondary packaging; repack kitting and assembly; warehousing, inventory management and distribution.