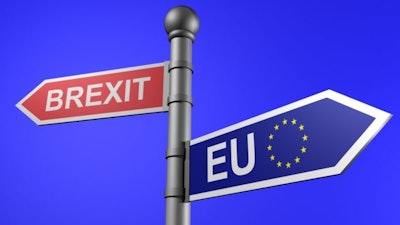 A recent Compelo article discussed the potential impact a no-deal Brexit could have on the packaging industry. Here's an excerpt relevant to pharma:
Hull-based pharmaceutical packaging company Origin's head of marketing, Rich Quelch, says: "Brexit will inevitably add costs result in damaging border delays. This will cause serious problems for time-sensitive medicines, which require delivery in as little as 24 hours in many cases, potentially leaving patients without vital medication."
He says human medication marketing would no longer be centralized by the EU, but instead by the UK's overseen by the Medicines and Healthcare Products Regulatory Agency (MHRA) in the event of a no-deal Brexit.
"It would require new laws and systems for packaging and labeling to ensure high standards and safety, putting stress on regulatory bodies to ensure they're prepared," he says. "The MHRA approval process is largely industry-funded and would struggle to sustain itself on only the fees paid for the review of medicine in the UK. But it would provide a platform for the MHRA to establish itself as a global leader in medicine regulation, including marketing authorization and packaging."