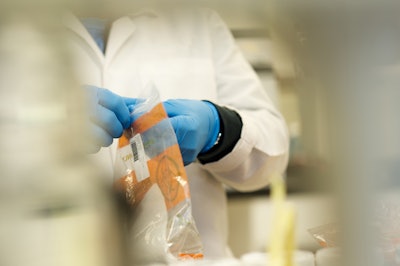 Editor's note: The following story is reprinted with permission of Longitudes, the UPS blog devoted to the trends shaping the global economy. Its author is Charles Redding is President and CEO of MedShare, a nonprofit dedicated to improving the quality of life of people, communities and our planet by sourcing and directly delivering surplus medical supplies and equipment to communities in need around the world.
Nearly 6 million children died last year before their fifth birthday. Around the globe, that's 16,000 kids/day, 700/hour and 11/min.
Tragically, more than half of these early child deaths could have been prevented with access to simple, affordable medical care, according to the World Health Organization.
At the same time, U.S. hospitals are generating more than two million tons of medical waste each year. Much of that "garbage" is unused medical supplies and equipment.
That includes anesthesia machines, ultrasound systems and other perfectly usable medical gear in high demand in impoverished communities.
These items are often tossed aside to make room for newer models at hospitals.
In the U.S., our greatest asset can become our greatest weakness. In constantly striving to innovate—a noble goal—our quest for the next shiny object too often distracts us from the broader mission of helping those most in need of modern medical technologies.
Reminders of this crisis are everywhere. I heard a story of a doctor performing surgeries with one hand.
His reasoning? He had to conserve medical gloves. He was running low again.
In other impoverished areas, hospitals are washing disposable gloves and using them for multiple procedures on different patients.
Surgical gowns, masks and shoe covers—items that seem so commonplace in many medical settings—are nowhere to be found in far too many regions.
This cannot stand, especially when the solutions are so within our reach.
To solve this problem, we must enter the far reaches of developing countries and reach people where they cry out for help.
But as any doctor knows, you can't fix an ailment without both a proper diagnosis and prescription.
I'd suggest that true progress will come only when philanthropic, governmental and business partners start identifying better treatments for this chronic shortage of medical supplies and equipment.
Waste not, want not
A chemical engineer by training, I spent more than two decades traveling the world.
Time and again I saw the disparity in medical supplies in even some of the fastest growing economies, such as China, India and Mexico.
I came to the following conclusion: There had to be a better way.
When I discovered MedShare, a nonprofit dedicated to improving healthcare and the environment through the efficient recovery and redistribution of surplus medical supplies and equipment, I was immediately inspired.
MedShare's mission has evolved today by focusing on improving the quality of life of people and our planet.
MedShare uses some 19,000 volunteers—including UPS employees—that deliver medical supplies to 97 countries.
In becoming CEO of this amazing organization, I found my dream job (there's no better place for a person passionate about both supply chain management and healthcare). But an operation of this size doesn't run on good intentions alone.
We're embracing a totally new mindset. Rather than concentrating purely on bridging the gap between surplus medical equipment and need, we're laser-focused on maximizing impact.
The next evolutionary step for nonprofits like MedShare is narrowly targeting specific markets based on how we can best serve them.
The products we deliver must be in line with a given community's health priorities.
Here's a sobering statistic: Up to 70% of medical equipment in developing nations goes unused due to a lack of knowledge about how to use such supplies.
In other words, merely shipping medical goods to an area in need doesn't mean you're helping. In fact, in some cases, you're making the problem even worse.
The trick is teaching people how to fish, not just get the fish. It's about sustainability. Many of today's most pressing healthcare crises flare up over and over again.
Real medical breakthroughs come only when people have the tools to put out the next fire.
This is no easy task. These are global issues that require global responses.
Shopping for hope
Luckily, hospitals are becoming more efficient and corporate social responsibility is changing the philanthropic landscape for the better.
But we can do more. And that begins with better performance metrics.
Each container we ship, for example, holds roughly 1,000 boxes of supplies.
UPS, our logistics partner, helps us send packages from our offices in Atlanta, New York and San Francisco to the other side of the world—and faster than ever before.
We make our goods available to recipients to order online—it's no different from when you buy a pair of shoes or jeans off Amazon.
Just as e-commerce is changing how businesses operate, it's also overhauling how leading nonprofits do business.
In addition to the online ordering, we develop our own matrix profiles, ranking countries' health needs and filtering out which nations would benefit the most from certain services.
This is not all that different from a corporation choosing where to deploy its resources to bolster its bottom line.
We're thinking more like a business—and the results speak for themselves.
This was our approach to the Ebola crisis that ravaged Liberia, Guinea and Sierra Leone. We knew we had to get products to Africa quickly.
Aided by the warehouse management and shipping services offered by UPS, we ultimately shipped 33 containers of supplies to Ground Zero in the Ebola fight.
Liberia is now Ebola-free, andall known chains of transmission have been stopped in West Africa.
This happened only because of the partnerships between NGOs, businesses, governments and concerned citizens. It proved that we can still do big things in tumultuous times.
There will be other tests—a seemingly new medical challenge emerges every day. But we're better equipped to respond to change in an ever changing world.
And oddly enough, simply keeping items out of your neighborhood landfill could work medical wonders. Or it could be that old pair of crutches collecting dust in your closet.
Drop them off at MedShare, and we could send them to a person hobbling around on dirt roads in a rural community in Africa.
At MedShare, we've effectively diverted 2.3 million cubic feet in medical supplies from landfills.
We've also freed up medical providers to focus on their day jobs: treating the sick, the tired and the poor.
This much is certainly true: One man's trash really is another man's treasure.
The current gap in healthcare quality around the world can only be addressed by NGOs, local governments and the private sector working together.
Companies in this article