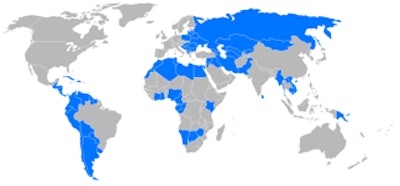 Despite costly R&D activities upfront, interest in entering emerging markets continues to be driven by the growth of populations and unmet pharmaceutical needs. There are, of course, additional complexities to consider including vastly differing economic and political conditions between countries, and (possibly frequent) variation within the countries themselves.
Paul Draper, Sector Manager at DCA Design International, explained at PharmaPack in Europe recently that while there may be hurdles that you don't encounter in existing markets, the following steps—focusing on stakeholders and field research—could increase your chances of success around the globe.
1. Get a feel for the system and purchasers.
To ensure products are appropriately designed for your target markets, you have to understand the stakeholders, their influence, and the local system in order to produce stakeholder-informed design (as opposed to standard user-led design).
As Draper noted, "The end user will never see a product if the regulators' and payers' needs aren't met."
2. Once you've mapped the stakeholders, plan and perform field research on behavior.
Going off the beaten path will help you design packaging that works in the real world. Lisa Maree Baker, Senior Human Factors Researcher at DCA Design International, met a Kenyan pharmacist during a research trip and her observations illustrate some of the differences in purchasing and distribution practices, including:
• The pharmacist makes personal choices in what he stocks—if he doesn't feel it meets his or the customers' needs, he won't buy it.
• Drugs are separated into more affordable single-use doses by cutting sheets of blisters. Clearly there are not enough sets of instructions to accommodate this practice.
• There is a fear of counterfeit drugs in emerging markets, so he has a preference for branded medicines.
3. Generate personas (fictional characters) for purchasers and users, and develop a list of their behavior patterns.
This may mean creating a set of personas for each different socioeconomic background, etc. This step is important in resolving conflicting needs and distilling requirements into a clear picture. Additionally, consider that you may need to design packaging appropriate for local manufacturing.
Packaging design decisions should be tailored to the needs of your market and not driven by manufacturing cost alone. Though distribution systems may be different in emerging markets, the need for high integrity pharmaceuticals and medical devices is the same. "Remember corporate responsibility," Draper said. "At the end of the day, we're addressing the needs of healthcare patients worldwide."
Companies in this article