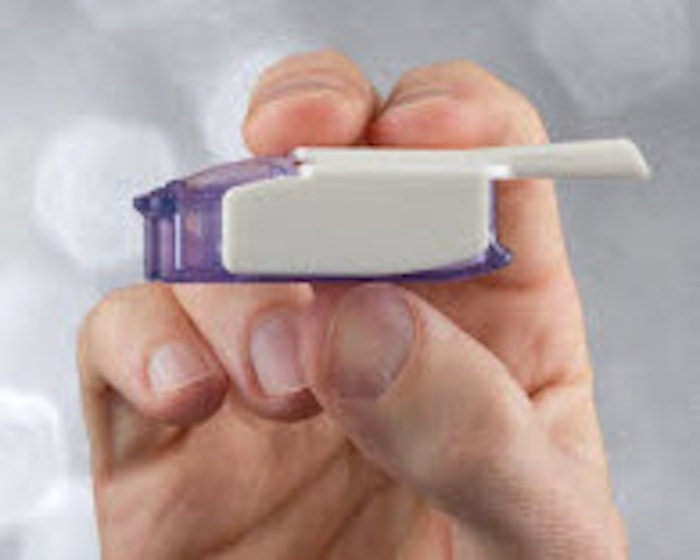 Global healthcare leader Sanofi and biopharmaceutical company MannKind Corp. announced that Afrezza® (insulin human) Inhalation Powder is now available by prescription in U.S. retail pharmacies nationwide.
Afrezza® is a registered trademark of MannKind Corp., is manufactured by MannKind Corp., and distributed by Sanofi-aventis U.S. LLC. Afrezza is approved by the U.S. Food and Drug Administration to control high blood sugar in adults with type 1 and type 2 diabetes.
In a press release announcing that FDA had approved Afrezza to treat diabetes, the agency said, "The drug's safety and effectiveness were evaluated in a total of 3,017 participants–1,026 participants with type 1 diabetes and 1,991 patients with type 2 diabetes."
FDA added, "Afrezza has a Boxed Warning advising that acute bronchospasm has been observed in patients with asthma and chronic obstructive pulmonary disease (COPD). Afrezza should not be used in patients with chronic lung disease, such as asthma or COPD because of this risk. The most common adverse reactions associated with Afrezza in clinical trials were hypoglycemia, cough, and throat pain or irritation."
Sanofi and MannKind entered into a worldwide exclusive licensing agreement to develop and commercialize Afrezza. Under the collaboration agreement, Sanofi is responsible for global commercial, regulatory, and development activities.
"Many people living with diabetes are not able to control their blood sugar on their current medications and may benefit from using insulin. Now they have another option to administer insulin that is not an injection," says Dr. Janet McGill, M.D., Professor of Medicine at Washington University School of Medicine in St. Louis and Afrezza clinical trial investigator. "This delivery option may help change the dialogue between health care professionals and people living with diabetes about initiating or intensifying insulin therapy."
Afrezza is a drug-device combination product that consists of a dry formulation of human insulin delivered from a small and portable inhaler to help patients achieve blood sugar control. Afrezza is rapidly absorbed and has a short duration of action. It is administered at the beginning of a meal.
Afrezza is available in 4-unit and 8-unit single-dose cartridges of insulin powder that can be used, as prescribed by a health care professional, in combination with other diabetes medications to achieve target blood sugar levels. For Afrezza doses exceeding 8 units, patients may use a combination of 4-unit and 8-unit cartridges. Other sizes of cartridges are being considered. The disposable inhaler can be used for up to 15 days, should be kept in a clean, dry place with the mouthpiece cover on and may be wiped with a clean, dry cloth if needed. Full Prescribing Information for Afrezza, including Boxed WARNING, are available.
"Afrezza is an important addition to Sanofi's growing diabetes portfolio of integrated, personalized offerings, and it is one that highlights our dedication to bringing innovative therapies to people with this disease," says Pierre Chancel, Senior Vice President Diabetes Division, Sanofi. "There is a recognized need for an insulin that doesn't require an injection, and our organization is committed to making this new treatment option available to patients."
"We are extremely proud to see the many years of work that went into developing Afrezza culminate in the day when it is now available to help people manage their diabetes," says Alfred Mann, Executive Chairman, MannKind Corp.
Media perspectives
In its Feb. 3 online report, CNBC.com noted, "Sanofi launched an inhalable insulin in the U.S. on Tuesday in a potential boost for its flagging diabetes drug sales and for patient quality of life. Developed by MannKind, Afrezza will be the only inhalable insulin on the U.S. market, where Sanofi competes with Eli Lilly and Novo Nordisk for sales of traditional injectable insulin.
"Inhalation promises to be faster acting and much more convenient than injections, but an inhaled product has failed in the past and there are concerns about the potential risks associated with breathing powdered insulin."
Meanwhile, ABC News reported the following in its Feb. 3 online article: "Hoping to appeal to millions of needle-phobic Americans with diabetes, drugmakers Sanofi and Mannkind have just launched Afrezza, an insulin that's inhaled, rather than injected."
ABC's story concluded, "Sanofi, the world's third-biggest drugmaker by revenue, needs to boost its U.S. diabetes business. …Sanofi is to receive 65 percent of Afrezza profits, Mannkind the remaining 35 percent."
Companies in this article