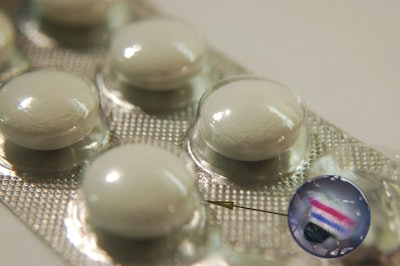 An international manufacturer of labeling systems for legally binding counterfeit protection notes that in January 2013, several German pharmaceutical industry and pharmacists associations will start a nationwide pilot project to assess the efficiency of a protection system against counterfeit drugs.
The securPharm initiative, launched by German pharmaceutical manufacturers, wholesalers, and pharmacists, is intended to comply with the European Union Directive on Preventing falsified medicines, published in July 2011. An English translation of how the security system works explains that pharmacies participating in the pilot "will be equipped with a data-matrix scanner that can be used to read the code." Pharmacists scan a coded sales pack before dispensing it to the patient. That initiates a query into the database. "If the system serial number is accurate, the system confirms the query and the number is flagged as 'dispensed' in the database. However, an unknown serial number, or one that has already been flagged as 'dispensed' by prescription triggers an alarm. The patient is then given another, correct pack, and the reasons for the suspected counterfeit are investigated."
On its Web site, The European Compliance Academy reported in 2011, "Because of the involvement in the securPharm initiative of all German Association of Pharmaceutical Manufactures as well as of The German Society of Hospital Pharmacists and the German Wholesaler Association, one may expect that securPharm will become the relevant standard for all pharma companies in Germany and possibly in other European countries too. The motto of the initiative is 'end-to-end' instead of 'track and trace.' In a track and trace context, data are read out in each supply phase of the medicinal product while in an 'end-to-end" solution, verification, and data comparison should be performed in the pharmacy."
Despite that promising forecast, anti-counterfeit technology maker 3S Simons Security Systems GmbH expressed doubt about securPharm in a Dec. 10, 2012 press release issued just ahead of the pilot launch.
The following details are from that press release, which included the image shown here of the company's Secutag® counterfeit protection system:
"In anticipation of the test phase, 3S warns that the new system does not prevent counterfeit drugs from getting into the legal supply chain, linking pharmaceutical manufacturers and pharmacists.
According to current plans, the securPharm initiative relies solely on the data-matrix code to secure drug packaging. Even though the code provides new route and process tracking options, it is yet not counterfeit-proof. "Wrong data-matrix codes can easily be printed on packages of fake drugs using an ink-jet printer," says Rolf Simons, managing director of 3S Simons Security Systems GmbH. "In order to not harm the health and life of patients, securPharm should be combined with a real anti-forgery system. This is the only way to make sure that counterfeit drugs are not distributed to German pharmacies via the traditional pharma supply channels."
Given the risks that fake drugs may cause, it is important that consumers are able to identify any medicine as original. This would strengthen the mutual trust between manufacturers, distributors, and customers.
In Germany, there are reports about fake drugs, which primarily refer to illegal Internet suppliers located outside the European Union. By contrast, the distribution of drugs via pharmacies and officially registered mail-order pharmacies is deemed to be safe. However, given the international interdependencies regarding the movement of medicinal products, there is a risk of fake drugs getting into the legal supply chain.
To combat falsified medicine, the EU Parliament adopted a pharma directive on counterfeit medicine in 2011. This directive states that packaging of medicinal products has to be marked with a safety feature in order to be able to verify the authenticity of the medicinal product and single packages. Pharmaceutical manufacturers, wholesalers, and pharmacists are currently developing the security system securPharm, which is going to be tested in a pilot project in January 2013. The EU member states have to provide the EU Commission with details on their specific national systems by July 2013. In this context, securPharm could be used as reference model.
However, it remains doubtful whether securPharm will actually provide the required level of protection against counterfeit drugs since the data-matrix code is not forgery-proof. For instance, counterfeit data-matrix codes can be printed on packages of fake drugs using an ink-jet printer. Pharmacists would not be able to identify these counterfeit drugs in case the serial number has not yet been queried in the database or has been entered as sold. They would then sell the fake product to the patient. The system would reject the original in a subsequent query and would identify it as a counterfeit drug because the product status has been set to "sold".
Combining traceability and counterfeit protection

When looking at the design and concept of the system as currently being developed by pharmaceutical manufacturers, wholesalers, and pharmacists, there are concerns that organized crime will continue to infiltrate the legal supply chain with counterfeit drugs. In order to prevent this from happening, securPharm would have to be combined with a counterfeit protection system.
Micro color codes, for instance, can protect both drug packaging and data-matrix codes. The color code is stored to securPharm's database of manufacturers or pharmacists and allows tracking a drug's production and supply chain—from the manufacturer all the way to the pharmacist. Each manufacturer is provided with an individual color code, which ensures unambiguous allocation of the different drugs. Securing products by means of micro color codes applied onto the drug packaging is invisible to the naked eye; however they are detectable under a simple microscope. This is possible thanks to the counterfeit protection system SECUTAG® by 3S Simons Security Systems. Its micro color code technology, which has been counterfeit-proof for more than 15 years, unambiguously identifies products as originals and is accepted as evidence by international courts.
No tolerance towards counterfeiting or piracy

This method allows pharmacy staff to identify the drugs, including packaging, and the data matrix codes as originals. First, the data-matrix code is read during the verification process. Then, the micro color code is checked. In case of conformance, the authenticity of the drug and the data-matrix code can be proven unequivocally.
Consumers cannot be sure whether their pharmacist has given them the original drug, unless the production and supply chains are based on seamless protection systems ensuring traceability (data-matrix code) and counterfeit protection (micro color code). "There must not be any number of unreported cases and any tolerance concerning fake drugs, especially when drugs are distributed through pharmacies," says Simons. "Any counterfeit product must be identified and removed from the marketplace."
Such a protection strategy will not only reduce control costs along the production and supply chain, but it will also strengthen the image of pharmaceutical companies as guarantors of high quality. This is because the system can be communicated to the public. It enables consumers to identify whether they have bought the original product or not. If they do not check the product's authenticity, they assume a share of the responsibility. This may be relevant when it comes to unjustified product liability and damage claims."