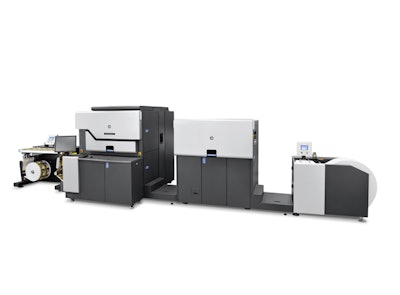 HP also announced three beta customers for the 30-in. HP Indigo 20000 Digital Press, including the first in the United States, and showcased its recently expanded portfolio for label and packaging production. The new HP Indigo portfolio helps print service providers (PSPs) and label converters expand into more areas of the label and packaging market to profitably grow their businesses.

The technology contributes to an increase in print volume of close to 50% on the HP Indigo WS6000 and WS6600 presses since Labelexpo 2011.

At Labelexpo, HP showcased the HP Indigo WS6600 Digital Press with the Enhanced Productivity Mode and optional Inline Priming (ILP) unit for increased productivity and flexibility. New features for the HP Indigo WS6600 include an additional primer for the press's ILP Unit and a SecurePack System that help expand the press's range of applications.

With the ILP Unit, converters can run the same standard, non-treated media used in conventional production on the HP Indigo press with no off-line substrate preparation. This capability streamlines mixed production environments and makes last-minute jobs faster and easier to deliver to customers.

Michelman, a global developer of water-based barriers and coatings for flexible film packaging, paperboard, and corrugated cartons, has released a new primer for the press's ILP unit. The Michem ILP040 primer extends the ILP's media compatibility from paper-based substrates to synthetic media, allowing the WS6600 to support a broader range of applications and offers customers improved total cost of ownership. The ILP and the Michem ILP040 primer are backwards compatible with the HP Indigo WS6000 Digital Press.

De Pere, WI-based Belmark recently purchased the HP Indigo WS6600 Digital Press and ILP unit to enhance its ability to efficiently produce a wide variety of vivid pressure-sensitive labels and folding cartons, as well as further streamline its lean production practices.

"The Inline Priming unit has been a great enhancement to reduce inventory and get materials to the customer faster," said Karl Schmidt, president, Belmark. "It allows us to run more unique materials with very short lead times."

The HP Indigo WS6600 also features an Enhanced Productivity Mode (EPM) that increases press throughput from 98 linear ft (30 linear meters)/minute in four-color mode to 131 linear ft (40 linear meters), enabling faster delivery and print runs of almost any length.
Companies in this article