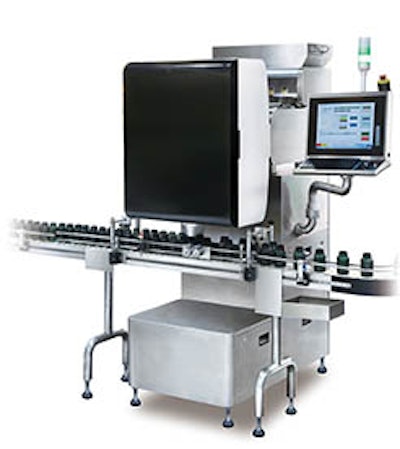 The CPT V120 Vision Counter from CapPlus Technologies uses high-speed imaging technology to double the speed of comparable 12-track counters in a reduced footprint. The system is suitable for tablets, pills, capsules, wrapped candy and products, and odd shapes such as dried fruit or nuts, and is used in the pharmaceutical, nutraceutical, food and cannabis industries.
The CPT V120 Vision Counter uses six vibrating troughs to feed the product in bulk toward a waterfall drop. The high-speed, high-resolution camera combined with a high-powered CPU captures accurate product counts in bulk quantities, overcoming the counting thresholds and material handling space constraints that traditional optical sensor counting machines face.
The camera counts the product from a distance to eliminate dust contamination and the system is able to identify and reject defective products.
The use of troughs—instead multi-layer channels—enables the system to handle odd shapes and sizes. In traditional optical counters, product travels along channels where product dust can affect the counting sensor. Additionally, traditional counters are limited in flexibility by the product size or shape: changes to the product often require a change in the channels themselves.