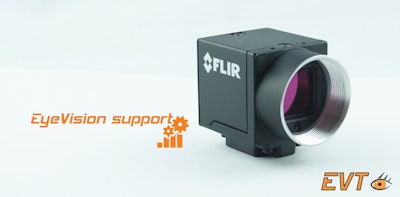 EVT's EyeVision software now supports FLIR Integrated Imaging Solutions cameras. These Blackfly S GigE and USB 3 cameras as well as USB 3 Vision cameras, which currently use the Spinnaker SKD, are supported.
After FLIR applies the Spinnaker SDK to other cameras, those will also be supported by EyeVision. They will work with EyeVision via plug&play.
The FLIR digital cameras are used worldwide, for applications in industrial environments, medical technology, bio technology, traffic engineering, biometrics, geographical information systems and for the counting of persons.
The EyeVision 3 software offers the necessary commands for this in a graphical user interface (GUI), where no programming skills are required. The drag-and-drop combination possibilities of the inspection programs, applications such as Code Reading & OCR/OCV, metrology, pattern matching, object detection and counting as well as color inspection can be solved.
With the plug&play principal for the integration of new cameras via the EyeVision integration path, the supported FLIR cameras can be just plugged in and started with EyeVision almost just as easily as webcams, with either Windows or Linux.
FLIR cameras can now also be used with the brand-new Multi-Camera-Support, where more than one camera can be used with only one software license. In addition, the camera settings of the individual cameras can be adjusted.
Companies in this article