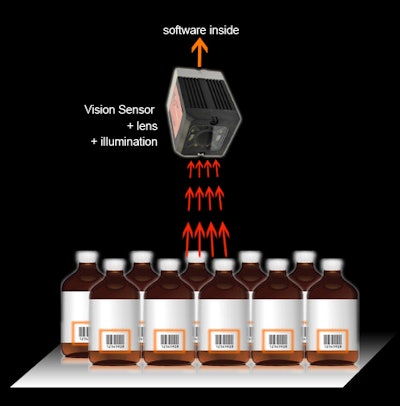 EVT Eye Vision Technology's EyeSens BI (Bottle Inspect) vision sensor is suitable for the inspection of beverage bottles. This vision sensor contains prefabricated programs to inspect bottles if the cap is closed, open, askew, or missing. In addition to checking the position of the label the EyeSens BI can check if the bottles have the same label as the whole charge.
With the corresponding Web interface, inspection programs can be configured via intuitive command icons directly on the object without programming skills. Instead of installing complex software the user can type the IP address of the camera into the Web browser. At that point the user interface opens in the browser window, and the vision sensor is ready for action.
For evaluation of characteristics with an industrial machine vision system it is necessary to determine good/bad, big/small, right/wrong, etc. Often the parameterization of a vision sensor can be carried out without programming skills or special training. When inspecting an object, the parameterization takes place via a configuration process. After one parameter teaching on a sample object the inspection can run autonomously without a PC.
Companies in this article