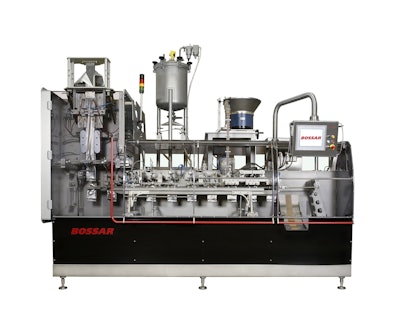 Bossar introduces its new BCS series, a full servo carrousel machine for filling and sealing premade pouches. This machine is equipped with a carousel cassette system and a unique pouch handling system, patented by Bossar, which allows a fast automatic format size change in minutes via the touchscreen.
The company also offers a new BVH series for flexible packaging materials. The BVH produces duplex side gusset with block-bottom-style pouches and a top fitment, making it suitable for filling energy drinks, fruit purees, yogurt, and beverages as well as granulated and powder products. Traditionally packed in premade pouches, these products can now be packed in pouches from rollstock, which represents material savings. Pouch formats range from 80 to 180-mm W and up to 300-mm L.
The new IMS intermittent-motion cartoner can be connected tovf/f/s or hf/f/s machines. It has a special collating system and a rotary servo−driven arm feeder and produces up to 70 cartons/min.
Bossar has a wide range of full servo hf/f/s machines for many different applications or product-specific features. These machines are constructed of stainless steel, and they can be executed with a laminar airflow cabinet to keep the packaging area virtually free of particle contamination. In many cases Bossar "Ultraclean" applications are also equipped with UV germicidal lamps to minimize bacterial contamination and valve disinfection systems.
Through the creation of Bossar Packaging Systems Srl., Bossar has increased its portfolio to include a wide range of packaging machines such as end-load cartoners, vf/f/s machines, flow wrappers, product handling systems, case packers, multi-head weighers, and end-fold wrappers. These additional capabilities allow Bossar to provide
complete turnkey packaging lines from one integrated supplier.
Companies in this article