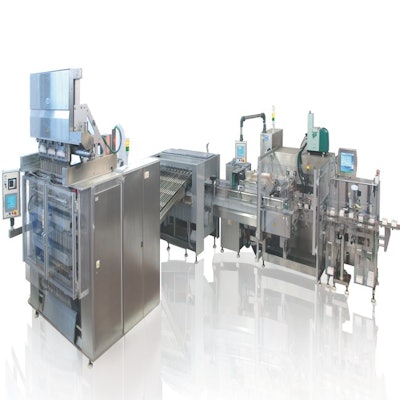 This complete line begins with one of two multilane vf/f/s packaging machines; ALFA Series stick pack or GAMMA Series for sachets. Cartoning and collating systems can then be integrated to enable seamless packaging, counting, stacking, carton forming/erecting, and carton closing. An in-line checkweighing option enables real-time quality control data collection. The entire line requires only one operator, reducing labor costs.

Designed for liquids, powders, gels, granules, pastes, pills, and capsules, this line is for pharmaceutical, nutraceutical, food, and beverage applications. "This line really makes things easy," explains Scott Musick, packaging equipment sales manager at Fres-co. "Whether you're trying to enter the growing single serve market or replace existing equipment, being able to get all of your line's components from one supplier can really enhance your facilities' efficiency and minimize downtime."

This complete, high-speed line can be quickly integrated into a packaging production environment. Fres-co provides machine installation and on-site training to ensure a smooth transition. With service in North America, customers have easy access to technical support and spare parts.
Companies in this article