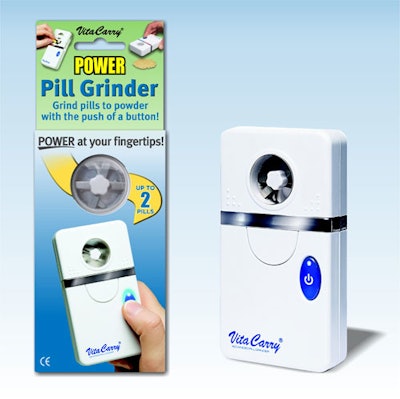 Variant notes that fully 12% of patients over 65 are clinically diagnosed with dysphagia or difficulty swallowing. Whether temporary or permanent, the diagnosis can be challenging. For example, chemotherapy treatments can leave throats dry and sore. Doctors may choose to add prescribed meds and supplements in powder form to liquids and soft foods to make them easier to administer. Broadening the market even further are children, pets, caregivers and various treatment centers -- including hospitals and nursing homes.

The new Pill Grinder follows a host of innovative approaches Variant has developed to capture its share of a niche market they believe has been grossly underserved for decades. Other products include an Electronic Pill Reminder that can simplify complex dosing schedules with multiple alarms.

Patented Pushbutton Pill Cases were launched last year to challenge the clumsy flip lid designs consumers have been limited to for years. And air/water tight organizers protect valuable contents from damaging moisture and UV light that can sometimes affect the potency of a vitamin or medicine.

Variant's management background stems from industrial design and its focus continues to be on solutions that employ thoughtful ergonomics, attractive design elements and quality construction. Christopher Gardner, President & CEO says, "Aging boomers are driving a paradigm shift in the adherence category. Today, there is greater acceptance for technology to play a role in our daily lives. As medicine and supplement programs become more complex (and expensive) the tools we use to manage them need to protect better, perform reliably and above all -- deliver value."
Companies in this article