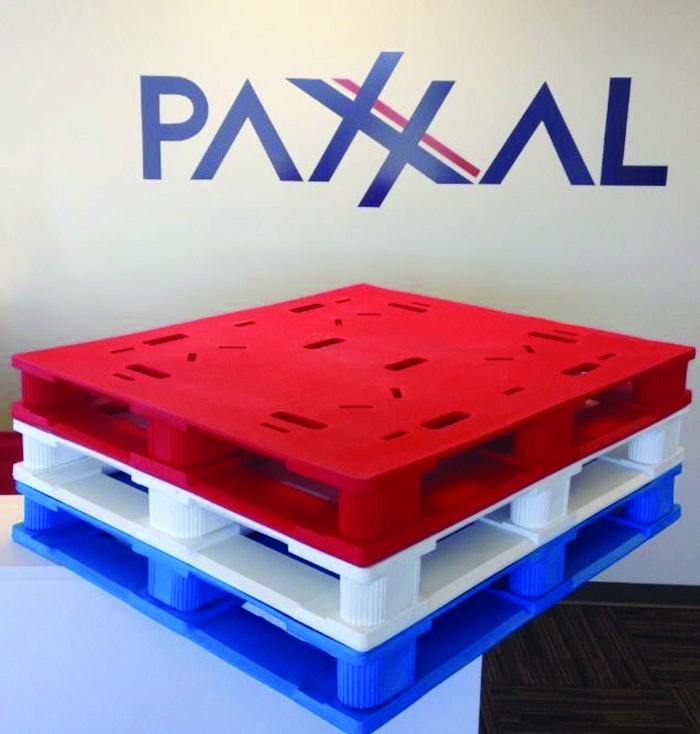 Paxxal Inc., a provider of shipping platforms, is rolling out its new North American Pallet to the U.S. market.
The pallet is made from 100% recyclable patented composite material with impact resistance and durability properties, using a unique, automated rotational molding process that enables cost-efficient mass production.
The Paxxal Pallet exceeds all North America GMA specifications, weighs less than 50 lb., and features reinforced blocks, 95% top deck coverage, a solid core, internal reinforcement for better rackability, wider four-way entry, rubber inserts to prevent slippage, a one-piece top and bottom deck design, RFID and barcodes, hand holds, stretch wrap corners and chamfered undersides and decks for easier pallet jack and forklift use.

The Paxxal Pallet is specifically tailored to today's changing pallet market. It uses patented roto molding technology, is durable, lightweight, and cost-effective in the multi-use plastic pallet market, according to the company. Its benefits also include the following:
More durable than wood or plastic
Lower product damage
30% lesser than wood in weight
Environmentally safe
Higher impact resistance
Resistance to extreme temperatures, bacterial growth, corrosion and UV
Hygienic and exempt from fumigation requirements
FM and UL listed (pending)
100% recyclable with indefinite life span
Longer life-cycle (economical)
Increased worker safety
Improved product stacking
No black market value for material
Potential for color coding/product identification
Paxxal units around the world have been successfully shipping pallets for a variety of business use cases, including pooling, closed-loop supply chains, automated facilities, and specialty transport of beverage, pharmaceutical and auto parts products.
Paxxal works collaboratively with the Packaging group at Virginia Tech University, several top retailers, distributors and manufacturers and drew upon global best practices in the development of the new plastic pallet to ensure it is readily accepted as the standard for the industry.
Companies in this article