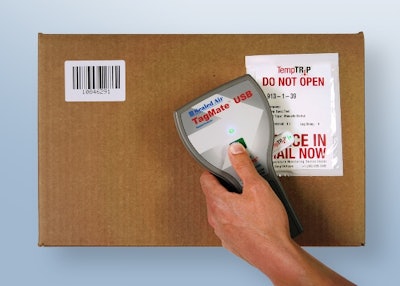 The system enables information to be viewed from different locations and companies for complex pharmaceutical distribution systems where sharing critical product temperature data.

Easy-to-use, Web-based customer interface has been validated for U.S. Code of Federal Regulations (CFR) 21 Part 11 compliance. Part 11 defines the criteria under which electronic records are considered to be trustworthy, reliable, and equivalent to paper records.

The Web-based system enables ordering, configuring, viewing, sharing, integrating, and managing data through an Internet browser.

The TempTRIP monitoring process incorporates three basic components-temperature logging cards (optional LED display), optional RFID reader with or without integrated bar-code scanner, and the Internet. Users set up an on-line profile, which includes shipping, storage, and receiving-point data plus temperature configurations, and which parties get to see the results.

To start the time and temperature monitoring process an RFID smart card is placed on the pallet or box. Next, the RFID reader scans the pallet's bar code and writes it to the smart card's memory. Temperature is recorded continuously, at whatever interval the company specifies.

When the TempTRIP-tagged pallets or boxes arrive at distribution center they are "read" to determine what temperature discrepancies have occurred. A green or red light will indicate the alarm status. Results are sent, via USB or Wi-Fi transmission, to a dedicated page on the Internet, with optional email and text alerts sent to the chain partners. (Users also have the option of mailing the smart card back to the TempTRIP Logistics Center, which then posts results online within 48 hours.)

The tags can be read and restarted at any time to record new segments with new starting and ending times. For example, as boxes or pallets are received, tags continue to record time and temperature in the truck, in the air and at delivery. Tags can even receive new "ownership" and new time and temperature parameters as they move from manufacturer to distributor to clinics and hospitals.
Companies in this article