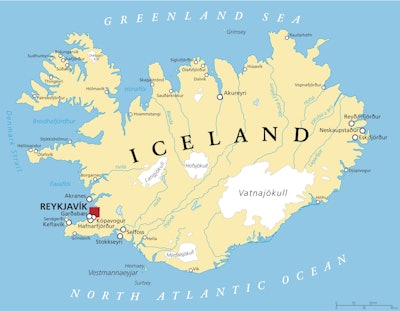 Iceland is about the size of Kentucky, but with only 8% of that state's population. All total, Iceland's population numbers 340,000. With 60 primary care facilities, 250,000 patients, and 98 pharmacies, there can't be many challenges to shipping temperature-sensitive medications, right? Just make certain the shipment can withstand extreme cold weather and it's good to go, right?
Not so fast. As Vallý Helgadóttir illustrated via three case studies presented Sept. 27 during the Global Forum 15th Annual Temperature Controlled Life Science Supply Chain event in Chicago, plenty of things can derail even well-planned, systematic healthcare logistics efforts.
Helgadóttir is the Director of Customer Service for Distica, a specialized company in logistics, warehousing and distribution of pharmaceuticals, healthcare and medical products for the healthcare sector and laboratories in Iceland.
Distica works with Iceland's national post service to deliver temperature-sensitive medications via road transportation throughout the country. Helgadóttir says most routes begin from the country's capital city Reykjavik.
At the event, she provided the following three case studies, briefly identifying their challenges and remedies. (Helgadóttir expressed the opinion that "a final solution does not exist. We are always striving to do better.") In all three studies, the cold chain deviations were discovered by using Controlant's cloud-based monitoring, which enabled Distica to track shipments and temperature excursions in real time.
Case study 1: Repeated excursions on one common delivery route revealed consistent temperature excursions at both its starting and end points. After assessing the situation, Distica learned that the delivery service changed vehicles used to transport medications. These different vehicles had to be used, despite the fact that their refrigeration units were also different than that of the original vehicle. As a result, Distica changed to a PCM 20 insulated shipping container that resolved the excursion issues.
Case study 2: On deliveries along a common transportation route to pharmacies in Southwest Iceland, Distica learned that a distribution center location changed. Within this different facility, products were stored near heat-blowing fans and windows that were not shielded from the sun, causing temperature excursions. Moving the shipments within the DC, redirecting fans and shielding windows alleviated this problem.
Case study 3: Helgadóttir pointed to a common misperception about Iceland's weather, noting the country's temperatures were milder than many believe. "Our winters are not as bad as Chicago's," she said. In what became a major issue, "temperatures of product rose to nearly 45°C in transit," she recalled. "Our contractor was concerned about outdoor temperatures, so it used oil heaters. The problem was that cases of product were placed near these heaters, so we had them turn off the heaters and that fixed our issue in that case."