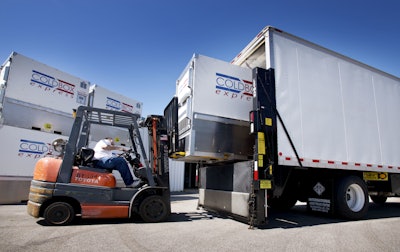 As a high-value transportation logistics provider, Houston-based Omni Logistics serves a variety of industries with ground and air freight around the world.
Omni faced a challenge with a biotech customer that manufactures temperature-controlled reagents in Southern California, while their primary warehouse and distribution center is located in Dallas. The process of shipping is further complicated because two products must move at two different temperatures: -20°C and 6°C.
"Dedicated reefer trucks were too expensive, especially when our client had more than one temperature requirement and considering they typically shipped only a few pallets at a time. Multi-temp LTL reefer options were even more limited, often had too long of transit times, and were not very reliable," says Jonathan Nasseri, Account Manager at Omni Logistics.
Instead of renting two separate refrigerated trucks, Omni was using dry ice and gel packs to ship the -20°C and 6°C shipments, respectively. "Based on compliance requirements, required transit time, price, and consistent availability, we found our best option was to repack product into [coolers] with gel packs and/or dry ice, depending on the temperature requirement," notes Nasseri.
The preparation—maintaining the gel packs and then assembling the shippers and packing them appropriately—was extremely time-consuming and wasteful. Though they were round-tripping the containers, the gel packs would only hold up for a couple of trips.
"There was quite a bit of disposable expense in managing that program," explains Foster McDonald, CEO of Cold Box Express, Inc., a provider of active refrigerated shipping systems. "The customer was growing and moving a lot of product. Using dry ice and gel packs was not sustainable for their needs."
From gel packs to active shipping
Nasseri found Cold Box in an online search for an active refrigerated shipping product and determined that renting the shippers monthly was an ideal fit for their needs in providing temperature-controlled shipping to their customer. Customers with more occasional use can rent on an as-needed basis. "We stage them throughout the country in 20 locations. We'll ship a box from the closest location to the customer, almost always within one day," says McDonald. "A big part of our strategy is enabling one-way trips. We can deliver a box from our nearest location, and at the end of a shipment, the box is returned to the nearest location to that destination."
For Omni, which handles shipper returns themselves, selecting Cold Box's shipper wasn't as much about saving money as saving time and energy because the loading process is as simple as lifting the pallet with a forklift and placing it in the Cold Box, securing with straps and closing the door. Locks can be added based on customer need.
Implementation went efficiently. "We had somebody on site for the first couple of shipments, so that smoothed it a lot," says McDonald. "One thing they had to learn that's very important in using our product, as well as any temperature-controlled shipping product, is that if you need the box at 5°C, the cargo needs to go in the box at that temperature." The container is intended for use in maintaining temperature, and not for bringing product to a specific temperature. It will act as a refrigerator while plugged in, but when it's in transit, cargo should be at the desired temperature to conserve battery life.
Faster packout, increased visibility
Where packouts once took up to 12 hours, "Now,our new active solution using a couple active pallet shippers set at two different temperatures [6.5°C +/- 0.5°C and -20°C +/- 0.5°C], allows us to complete our pickups with one person in under one hour. Further, we take up less space on the dock, and add a number of notable value adds," says Nasseri.
Cold Box temperatures can be set remotely from -23°C up to 48°C, arriving preconditioned. The shippers are powered with rechargeable batteries and can manage most trips up to five days, depending on the cargo and ambient temperatures. The shippers Omni selected have additional batteries to offer more longevity in the heat.
Every Cold Box has a GPS monitor as well as a cell signal. "Every five minutes, our system sends out a signal and it has a stream of information including the temperature in the box, the ambient temperature and the battery status as well as the location. So we always know where the cargo is, and we know the condition of the cargo. Customers can access this information through a web-enabled program," notes McDonald.
The Cold Box provides monitoring 24/7, and the system is alarmed so if issues come up—the box goes out of temperature range, the battery health is not good, or the box is opened—Cold Box gets an alarm that defines what the issue is. These alarms are customizable for each shipment depending on the customer's needs. Compliance reports are also available at the conclusion of each trip.
Cold Box aims to make the process user-friendly. The box has a control system with an HMI for input, which is set up for the customer before they see the box. Cell connectivity is two-way, so Cold Box can give the system commands and read what's going on, for control throughout the trip.
For Omni, the system has given peace of mind. Says Nasseri, "For one thing, there is no temperature excursion of any kind with our new process. We load the active pallet shippers inside the walk-in reefer/freezer with the boxes set to the exact same temperature, so everything is kept very tight from a compliance standpoint."
"No more worrying if there is enough dry ice to last a potential delay or that there might be too much and temperature could drop too low. Now we and our client both have direct virtually real-time access to payload temperature, battery levels, location, shock, humidity, and more from pickup to delivery plus a very slick report at the end of the trip summarizing everything. In the end, the Cold Box active refrigerated shipping model offered a significant overall cost savings along with improved control and visibility, so it's really been well received by all involved in the process."
Companies in this article