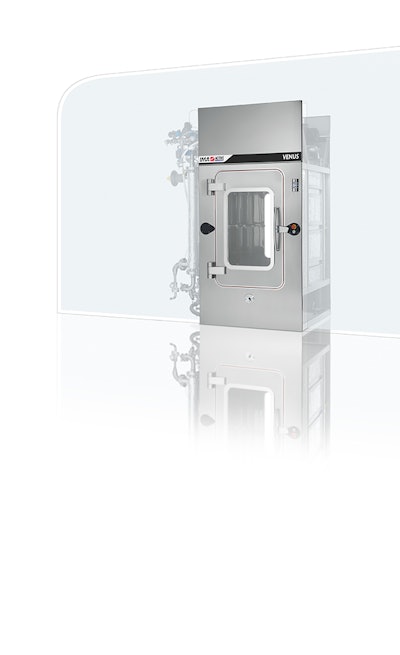 IMA Active has launched its new VENUS, an all-in-one solution to wash components and parts of different sizes and volumes in a completely automatic mode. VENUS achieves performance while minimizing water and detergent consumption:
The new VENUS features a rotating platform for baskets and racks, which guarantees optimal washing even for parts of complicated design.
As an option, a two-shelf basket allows the loading of a larger quantity of components. Machine parts are positioned directly on the basket: special customized supports can increase the number of parts to be washed in a single cycle, while optimizing water draining.
Nozzle ramps, directly connected to the cabin, provide a complete water coverage to all the components during basket rotation. As a result, washing time is significantly reduced.
Drying time is reduced as well: AirJetStream for faster drying of parts and higher throughput production by means of air recirculation enhances its effects thanks to the rotating platform.
The machine offers flexibility with special racks: the «Drum Washing Rack» accomodates drums up to 200 litres capacity, while the «Hose Washing Rack» accomodates hoses laid in a spiral path on dedicated supports.
Companies in this article