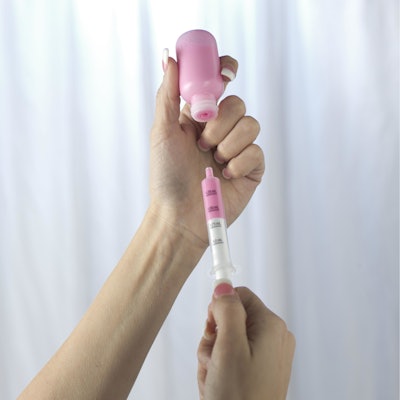 Comar's The DoseGuard™ System is designed to keep kids safe from unintentional ingestion with an easy-to-use, two part system. DoseGuard responds to the call of the U.S. Centers for Disease Control and Prevention (CDC) by helping to prevent unintentional ingestion of liquid medications by children. The product's design gives parents and caregivers the ability to prevent infants and toddlers from gaining unsupervised access to liquid medications. Product
samples are currently available.
Each year in the U.S., the CDC reports that one out of every 151 two-year olds is treated for an unintentional medication overdose, and over-the-counter (OTC) medications are involved in one third of all emergency room visits for children less than 12 years of age. The CDC formed the PROTECT Initiative with leading manufacturers of OTC medications, medication packaging manufacturers, and healthcare professionals to devise strategies for preventing unintentional medication overdoses in children. As a member of the initiative, Comar shared its expertise in child-safe drug delivery and dispensing solutions.
The DoseGuard System consists of two parts: the Comar proprietary valved bottle adapter and oral dispenser. DoseGuard oral dispensers are available in 0.5-mL, 1-mL, 3-mL, 5-mL, 10-mL, and 20-mL sizes. Consumers insert the dispenser into the valved bottle adapter to withdraw the product. After the product is dispensed, the system reseals and remains securely sealed, providing protection against unintentional ingestion of the container contents.
According to Mike Ruggieri, president of Comar, "The CDC request was particularly challenging. They were looking for a passive system that would still be effective for applications in which children were unsupervised."
The Comar DoseGuard System is protected by patents and CE marked. System components are manufactured in facilities that comply with current Good Manufacturing Practices (cGMP) and ISO 9001:13485 quality standards. Comar provides manufacturing services for pharmaceutical and Class 1 medical device molding.
Companies in this article