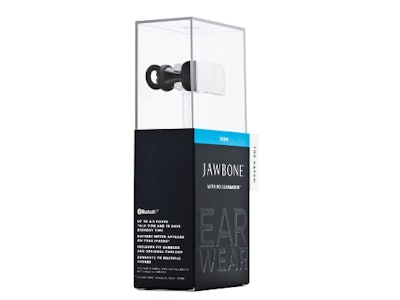 Aliph®, a creator of innovative personal technology products, has introduced the Jawbone® ICON™ Bluetooth® headset with redesigned packaging made with Eastar™ copolyester from
Eastman Chemical
. The packaging uses 68% less plastic than the original Aliph Jawbone packaging, demonstrating Aliph's emphasis on environmentally responsible packaging designed to reflect the sleek, premium quality of the Jawbone brand.
The use of Eastar™ copolyester allows Aliph to reduce its plastic requirements from 126 g of polycarbonate to 40 g of copolyester per package. The new package also provides a 360-degree museum-like view of the product inside. The durability, clarity, and design flexibility of Eastar enabled designers from San Francisco-based design agency
fuseproject
to achieve near-zero draft angles for square, sharp edges while reducing the wall thickness of the package.
Eastar is used for the design and manufacture of consumer and medical packaging, and the near-zero draft angle of a medical syringe made of Eastar served as inspiration for fuseproject designers in developing the ICON package.
"To create a box that looks like a museum case--perfectly square and sharp--it has to be manufactured in ways that are very advanced," said Yves Behar, fuseproject founder. "Eastar™ copolyester allowed us to make a perfectly square package that can't typically be constructed of plastic."
Aliph worked closely with fuseproject and Eastman to develop the packaging. By selecting Eastar™ copolyester, Aliph was able to package the Jawbone ICON using a recyclable material that creates a strong visual experience for the consumer and high package rigidity demanded by retailers.
Offering a combination of performance, aesthetics, and sustainable properties, Eastar™ copolyester was a contributing factor to solving Aliph's packaging challenge to create the most compelling experience for the consumer with the least amount of material.
"We're really excited about where we ended up with this, and we think it's a great statement for our brand as we continue to preserve that wonderful premium experience while creating something that is very sustainable in its architecture," said Hosain Rahman, Aliph founder and CEO.
For more information on the redesigned Jawbone ICON packaging, visit the
Eastman Innovation Lab Inspiration story
, or
"Doing More with Less" video
.
--Jim Butschli, Editor