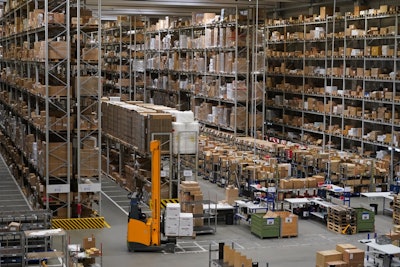 Since mid-March 2020, seemingly every day brings news of companies like Ford, 3M, and GE Healthcare teaming up to expand production of needed medical equipment, distilleries converting operations to make hand sanitizer, and automation suppliers helping in a variety of ways—from making their technologies available for free to converting their own manufacturing operations for production of supplies to fight against COVID-19.
In the absence of any nationwide coordinated strategy around these efforts, however, key supply chain problems are being revealed.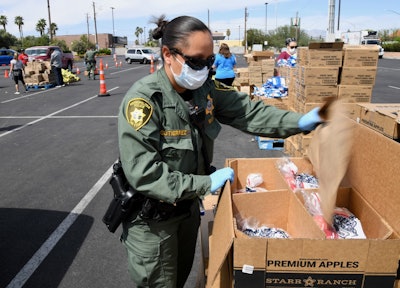 One example of this can be seen in the lack of packaging materials in the supply chain to handle delivery of the increased amount of hand sanitizer now being produced. In response, Automation World's parent company, PMMI, has teamed up with American Craft Spirits to help solve this issue. If you or someone you know can help with this, please fill out this form to connect your packaging supplies with the producers of hand sanitizers who need them.
Several other supply chain disconnects are highlighted in the Harvard Business Review article, "Bringing Manufacturing Back to the U.S. Is Easier Said Than Done." Most notable among these factors is the way in which modern supply networks are structured and the corresponding operational metrics applied to manufacturers. As noted in the article, this has resulted in manufacturers being transformed into "specialists and subcontractors who narrowly focus on just one area—even as these specialists have to rely on many others. Even something as simple as an energy-efficient desk lamp has sophisticated components like LED lights that are made in high-tech factories. Devices like smartphones, medical equipment, and precision instruments contain components whose design and manufacture require a great deal of specialization. The design and manufacture of modern microcircuits involves sophisticated tools, and the people using them need considerable training and experience to operate them successfully."
The Harvard Business Review article says that "a consequence of these complex interdependencies is a deep tiering of supply chains, with manufacturers dependent on their first-tier suppliers, which, in turn, are dependent on a second tier, which are themselves dependent on a third tier, and so on. Visibility into third, fourth, and more distant tiers is challenging, making wholesale replacement of anyone in the chain, let alone the entire chain, extremely difficult."
Louis Columbus, principal at IQMS, a part of Dassault Systèmes, says that track and traceability software is gaining greater importance in response to COVID-19, as manufacturers now have "a strong sense of urgency to create transparency on multi-tier supply chains, managing their list of critical components, determining the origin of supply, and identifying alternative sources."
He adds that this is not only happening in industries like medical products and pharmaceuticals, but in food and beverage as well.
To effectively apply track and traceability technology for supply chain insights, as well as to track product quality across manufacturing, Columbus says it is important to focus on seven key performance indicators (KPIs):
Corrective Action/Preventative Action (CAPA). Also known as corrective action requests, CAPAs are used for eliminating anomalies and non-conformances in products that are often discovered during inspections. "Contract manufacturers should use their ERP systems to proactively provide CAPA-level data on the production runs for their manufacturing customers' products to offer an accurate view of product quality over the long-term," says Columbus.
Engineering Change Order tracking. This metric (also known as an engineering change notice) tracks changes to routing, bills of materials, production workflows, and change requests within contract manufacturers' centers. Columbus notes that this metric, which can be tracked through a combination of MES and ERP software, "matters because it enables contract manufacturers to provide customers with insights into how well their products are being managed and coordinated."
Perfect Order Performance. "An immediate measure of how well synchronized and integrated the workflows are between a contract manufacturer and its brand manufacturing customers is provided by this metric," says Columbus. "Each step of order capture, order management, production, and fulfillment in the ERP system is used to define this metric, which is often represented by an index value."
Return Material Authorizations (RMAs) and Returns. RMAs captured in the ERP system are a direct measure of product quality and a products' non-conformance to customers' specifications and requirements. They are issued for a variety of reasons, and contract manufacturers need to have a monthly Pareto analysis done of the top 20% of factors that drive 80% of the returns. "This will make troubleshooting more efficient, leading to permanent solutions to problems that may be causing RMAs to begin with," he says. "This, in turn, will help contract manufacturers gain greater cost and operational efficiencies while maximizing brand customer satisfaction and loyalty."
Manufacturing Cycle Time (Aggregate). This metric, produced by a combination of real-time monitoring and MES software, quantifies the amount of elapsed time from when an order is taken until the product is produced and entered into finished goods inventory. "Cycle times vary by manufacturing segment, the scale of factory operations, global locations, and relative stability of supply chains supporting operations," Columbus says. "Manufacturers who implement real-time integration to know process bottlenecks and re-engineer factory systems to be more customer-focused can significantly improve their manufacturing cycle times."
Production Yield Rates. Yield rates reflect how efficient a machine or process is in transforming raw materials into finished products. Columbus says yield rates are "one of the critical measures of production yield as it reflects how well-orchestrated the entire contract manufacturing operation is. Manufacturers need to continually monitor yield rates to determine how they are progressing against plans and goals. Real-time integration, greater supply chain quality and compliance, and improved quality monitoring systems all have a positive impact on yield rates."
Inbound Supplier Quality Levels. Because brand manufacturers measure the inbound quality of their suppliers, Columbus says contract manufacturers need to measure the dimensions of how effectively their parts and raw materials suppliers are at meeting a high level of quality and on-time delivery. "This is accomplished by using statistical sampling and, increasingly, chemical analysis of advanced materials," he says. "Inbound quality levels often vary from one shipment to the next, so contract manufacturers should produce statistical process control charts that will quantify and show the trends of quality levels over time."
Companies in this article