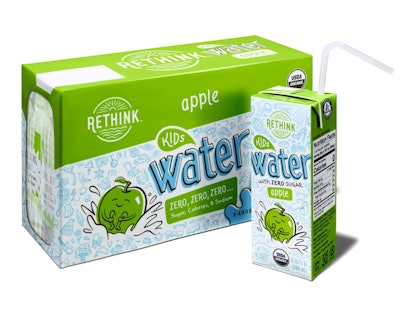 With its April 2018 introduction of new flavors, as well as newly designed packaging and branding, Rethink Brands is again making a splash in the category of flavored water for children.
The Columbia, MD, company launched Rethink Water in 2016, aiming to disrupt the bottled water category by focusing on "eliminating the 40 billion plastic bottles that end up in landfills and oceans each year."
Today, Rethink Water's sugar-free, organic-flavored juice alternatives are available in more than 10,000 retailers nationwide, including Walmart, Kroger, and Target as well as e-retailers such as Amazon and Jet.
Since the company was founded, its water has been packaged in cartons from Tetra Pak. Rethink's 300-mL BPA-free containers are made from 70% paperboard, cited by the company as a renewable wood fiber sourced from responsibly managed forests.
Meanwhile, the company's adult water offerings are sold in 16.9-oz and 33.8-oz cartons.
The company not only sees the Tetra Pak cartons as a sustainable package alternative to plastic bottles, but also believes the traditional juice box and straw configuration is easily recognizable for kids. At the same time, the box provides portability and convenience in that it's easy to pack in school lunches or to consume on-the-go.
Package design plays a key role in the company's health focus, with Rethink Brands working with Wes Wooddell of Wooddell Design. The designer indicates that package graphics decisions involved consumer research to identify key opportunities to stand out against competition while connecting to kids and parents in a relevant way. Says the company, "We refocused the brand on outdoor fun and activity. Each flavor became about adventure, experiencing the world outside our four walls and setting young imaginations loose."
"We've recently rebranded our packaging, making it more in line with how we see ourselves as a company—fun, energetic, and forward-thinking," explains Rethink Brands' Co-Founder Chris O-Donovan. "What's on the inside of the carton should reflect what's on the outside, and with shrinking shelf space, it's more important than ever for brands to stand out in stores."
Rethink Kids Water is sold in eight-count cartons shrink-wrapped in 2-mil film and in corrugated cases holding 32 cartons. Filling is done by Lassonde.
"When we launched Rethink Kids Water, our goal was to fill a real-world void in the beverage industry, and we achieved that by creating a sugar-free juice alternative for kids," says Matt Swanson, Rethink Brands' Co-Founder and CEO. "As we continue to listen to our customers and evolve as a brand, introducing new flavors and newly designed packaging is the next step in that evolution. More and more consumers are choosing water as their drink of choice, and we're thrilled to be a part of that change."
Rethink Waters' new varieties are Organic Fruit Punch, Organic Strawberry Lemon, and Organic Orange Mango. These complement existing Purified Water, Organic Apple Water, and Organic Berry Water flavors, doubling the company's product range while still delivering no sugar, no sodium, and no calories. Prices range from $2.99 to $3.69 for an eight-pack.
The co-founders say, "With juice sales and foot traffic to the supermarket juice aisle in decline, Rethink Kids Water's new flavors, and new packaging—colorful, fun, and eye-catching—are in line with the company's forecasted 2018 growth of 150 percent and mission to change the way consumers, especially families, think about water."
Companies in this article